using chopcast
How to add yellow subtitles font to your videos fast
Looking for a quick yellow subtitle font generator or app? Upload a video to chopcast, get it auto-subtitled, and apply the vintage yellow look in minutes!
---
Yellow subtitles have gotten their popularity from anime series and vintage series, and can still be seen today on many videos.

If you're looking for an app to help you create yellow subtitles and add it to your videos to share on your social channels, look no further.

In this article, we'll walk you through how to add yellow subtitles to a video. You'll also learn how to auto-generate those subtitles, so you don't have to write or source them manually.

Adding that yellow subtitle font on your videos that is so iconic of so many sitcoms, movies and other flix (before netflix) from the 70s will surely help your videos stand out.

This is especially true on social, as this subtitling styles tends to be more popular on television than social channels (which is good news for you!)
How to add yellow subtitles to your video
Upload your video to chopcast
Confirm the part you'd like to add yellow subtitles to
Generate the auto-subtitles
Add the yellow color (we'll go through three)
Hit export

Your first question is probably: What is the specific shade of yellow that's used to get that iconic subtitle look?

I have one hashtag, three letters, and three numbers to say to you.

#
F
3
C
E
3
2

You can get that iconic yellow subtitle throwback vibe by going for #F3CE32.

Besides, forget the vintage appeal - these gorgeous mustard yellow subtitles are quite common due to their easy readability.

You may also try on #FCBE11 and see which one you like more.

If you're seeking that iconic yellow subtitles made popular from The Simpsons, Sponge Bob, and countless animes, ReadingSounds states that these are the two you should look for:


In case you're wondering, the hex codes for these are #FECB00 and #FFD90F respectively.

Sorry Homer, but your secret is out.




Now comes the next part.

How do we actually add these yellow subtitles to a video to achieve that look?

Gone are the days when you needed to use 3 software, 2 video editors, and 13.5 virtual assistants just to make a simple subtitle modification. Just drop it into chopcast, pick the part you want to subtitle, and


1. Upload your video to chopcast


Sign up for a free account on chopcast and upload your video. No need to subtitle your video before uploading, chopcast will do that for you automatically.
You can upload your video from your computer, or simply paste the YouTube URL for it from your channel.
2. Select the part of the video you'd like to subtitle

You can select all or part of the video, and the subtitles will be instantly generated for you for the selection that you need. From there we can then look at changing the color of the subtitles to that iconic vintage yellow.


3. Apply the yellow subtitle hex to your font

At the top of the video editor screen, make sure you're in the "Subtitle" tab. Next, go to Background Color, select None.



Pro tip: If you don't see the changes you make right away, you can hit the big black play button to the left of the clip selector to preview the changes at any time.
From there, click on the font color bar to open up the color selector as shown.
Shuffle through the color options to bring up the HEX selector, and enter #FCBE11 (or any of the other yellow subtitle variations above).
Hit the black play button to the left of the clip selector to preview the clip. You can decide if you'd like to bold the font or keep it as is.
You can repeat this process for more clips.
4. Hit export to get your video with yellow subtitles
When you're happy with the subtitles and are ready to get your crispy new (or should I say silk sonic vintage) yellow subtitles, you can hit Next, and Export.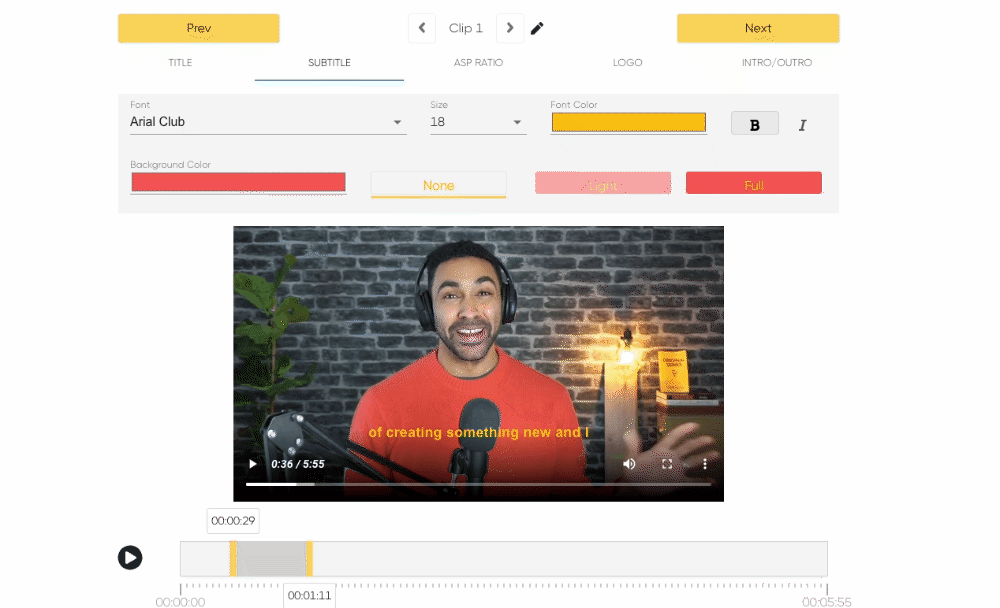 Add yellow subtitles font to your videos
As you can see, it's really easy to use chopcast as a yellow subtitle generator for your next video or clip. Remember that adding subtitles boosts the accessibility of your video and makes it easier to consume. Now add some groove vintage yellow subtitles to that, and you're off to the races.
Ready to get started? Sign up to chopcast in minutes.