Content repurposing platform
Turn long videos into clips for social.
Automatically find and turn key moments in your webinars and video podcasts into binge-worthy clips for LinkedIn and other socials. 100% editable.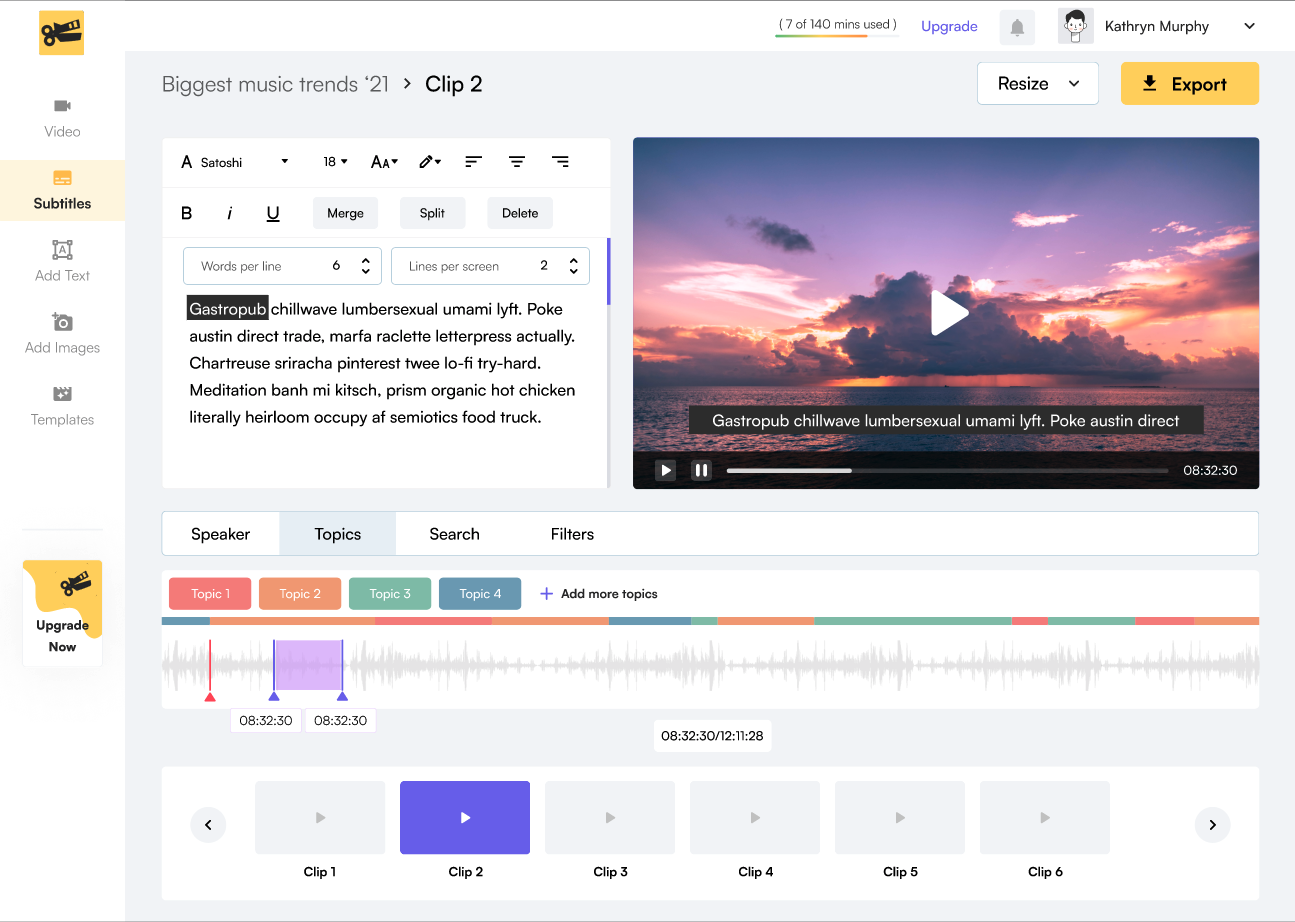 Join other small and large teams whom we've helped repurpose content, including:
Automatic content repurposing
Multiply your content results in minutes.
Scrambling through hours of webinars, virtual events, video podcasts, and other long-form videos, just to find the best parts to repurpose?
Doing PhD-level math to figure out timestamps just to make a simple clip for social?
Still sweet-talking your video person to carve out time to help, but they're too busy?
Paying for subtitles, then paying again just to fix them?
What if there is a better way?
We are building chopcast to scratch our own itch, and help others who can relate.
See how it works.
Upload your videos to chopcast. We'll automatically repurpose them into social cutdowns. You can tweak or edit them to your liking, or create your own in a few clicks.
With chopcast, you can:
⌛ Get back

85%

of lost time.

🪄 Get 10+ auto-generated clips per video.

💰 Reduce costs by a factor of

6-8x.

💆

Free up headspace to do what matters most.
(Try our ROI calculator)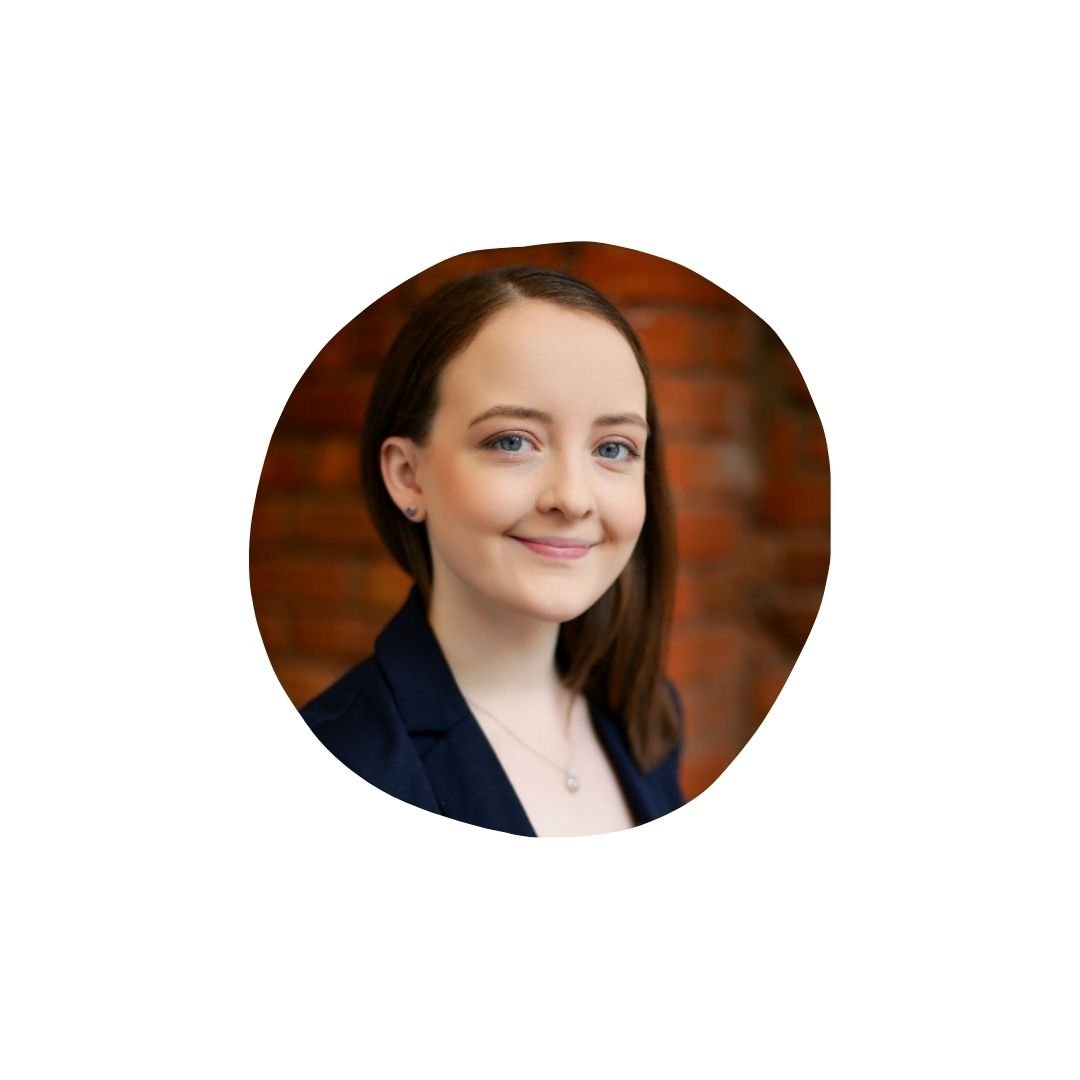 "chopcast helps us easily search our videos by topic and create social clips based on them. Saved us a lot of time to create engaging content versus trying to do everything manually."
"Finding and generating clip ideas is a breeze. I can tweak the ones I like further and export them to create lots of subtitled social clips. Before chopcast, this previously took hours when I had to watch videos manually!"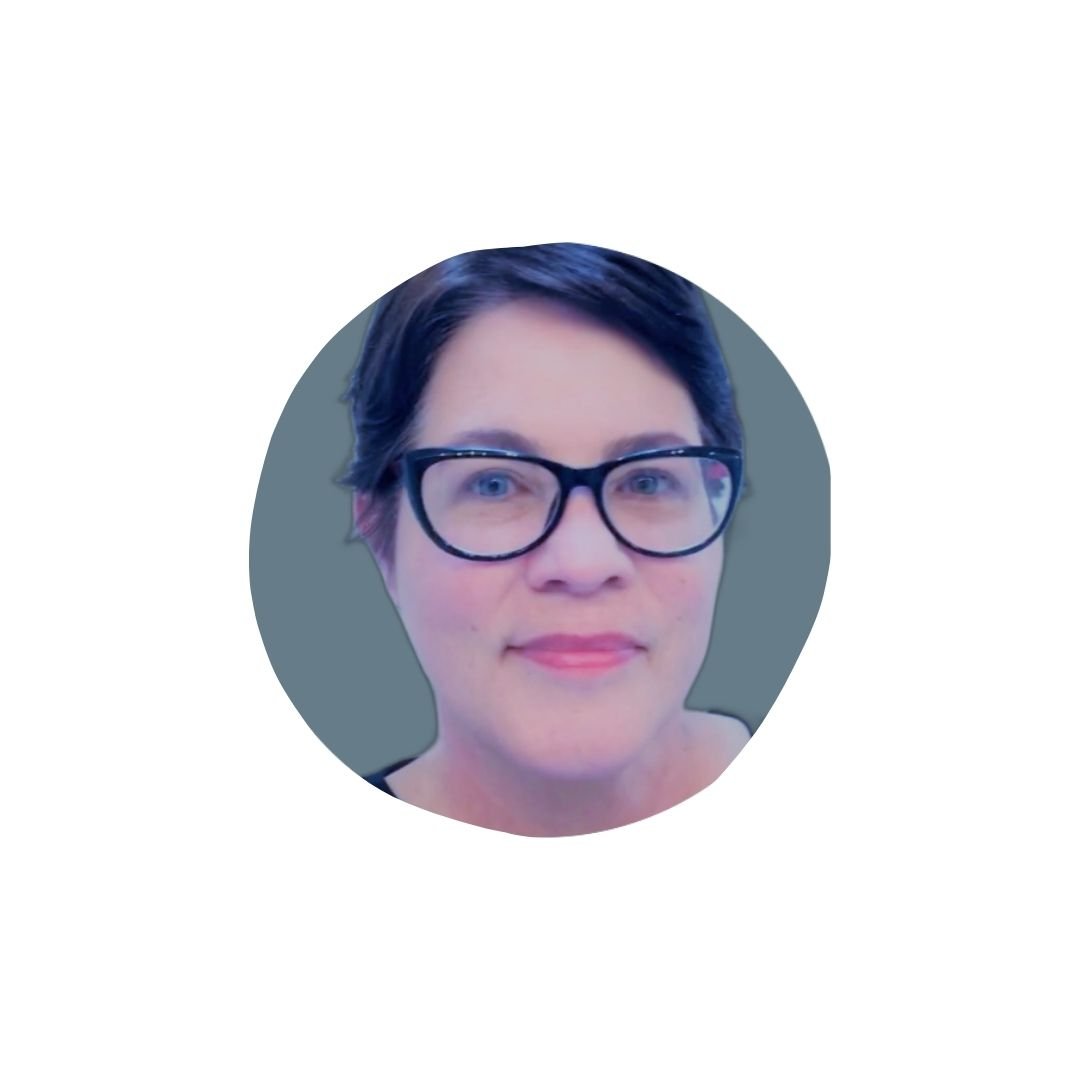 Find key moments to clip in 10 seconds.
Get auto-suggested clips based on topics discussed in your videos or search for your own keywords and topics. Resize them to your liking and export away.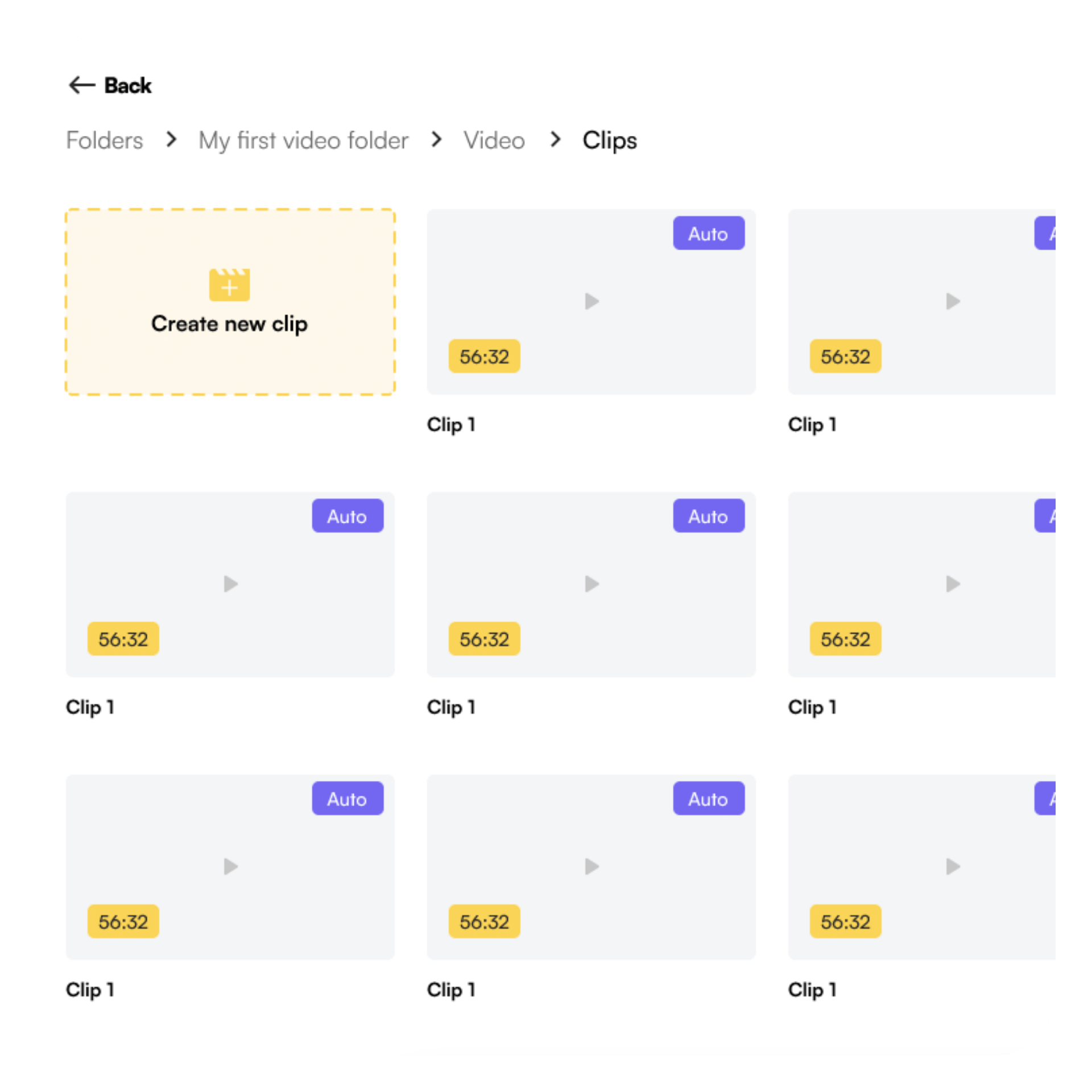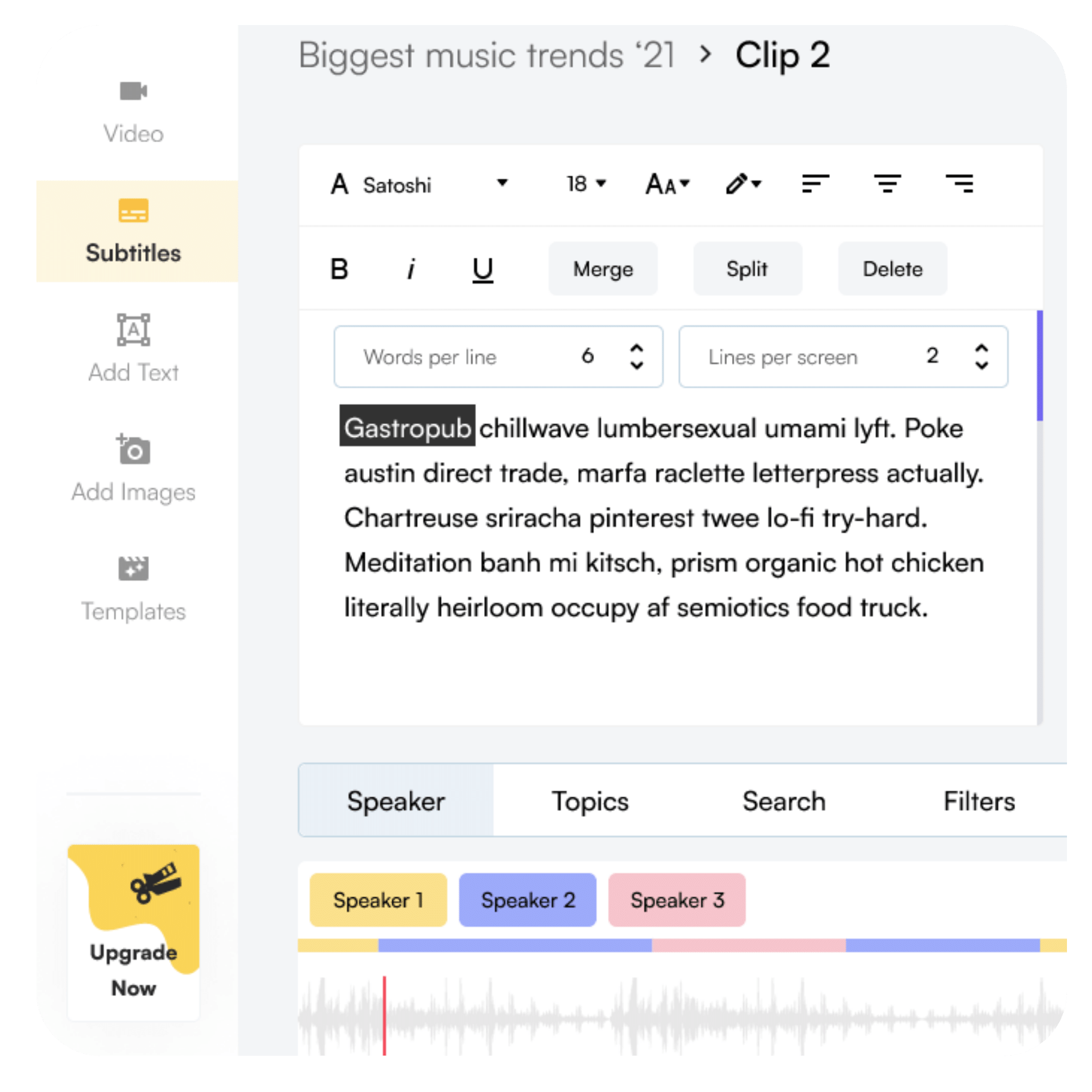 Instant subtitles.
Caption your videos automatically with >95% accuracy for most webinars/video podcasts. Edit, burn to video, or export as .SRT. It's your world.
Create once, resize many.
1:1. 4:5, 16:9, 9:16 - with more on the way. Resize your clips to your liking and export them for various platforms to boost discoverability.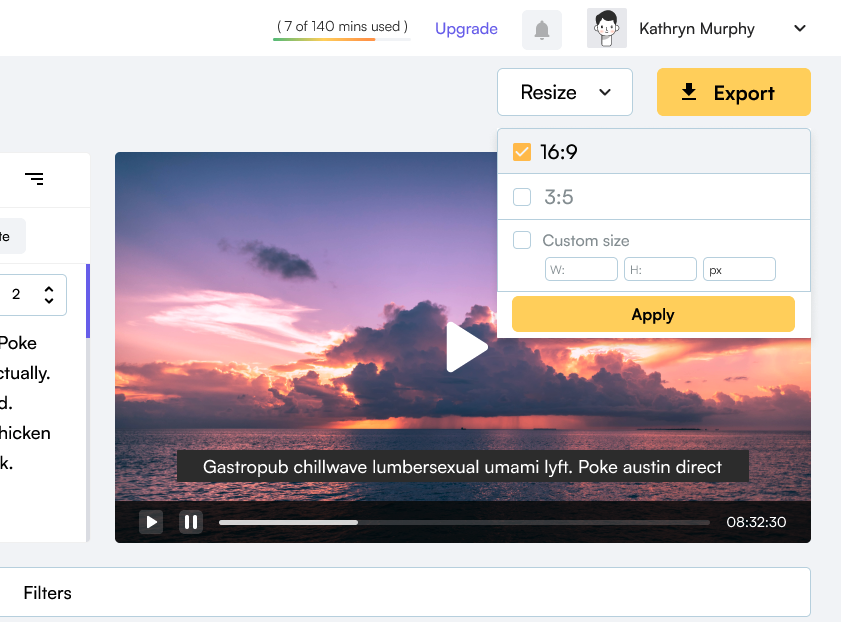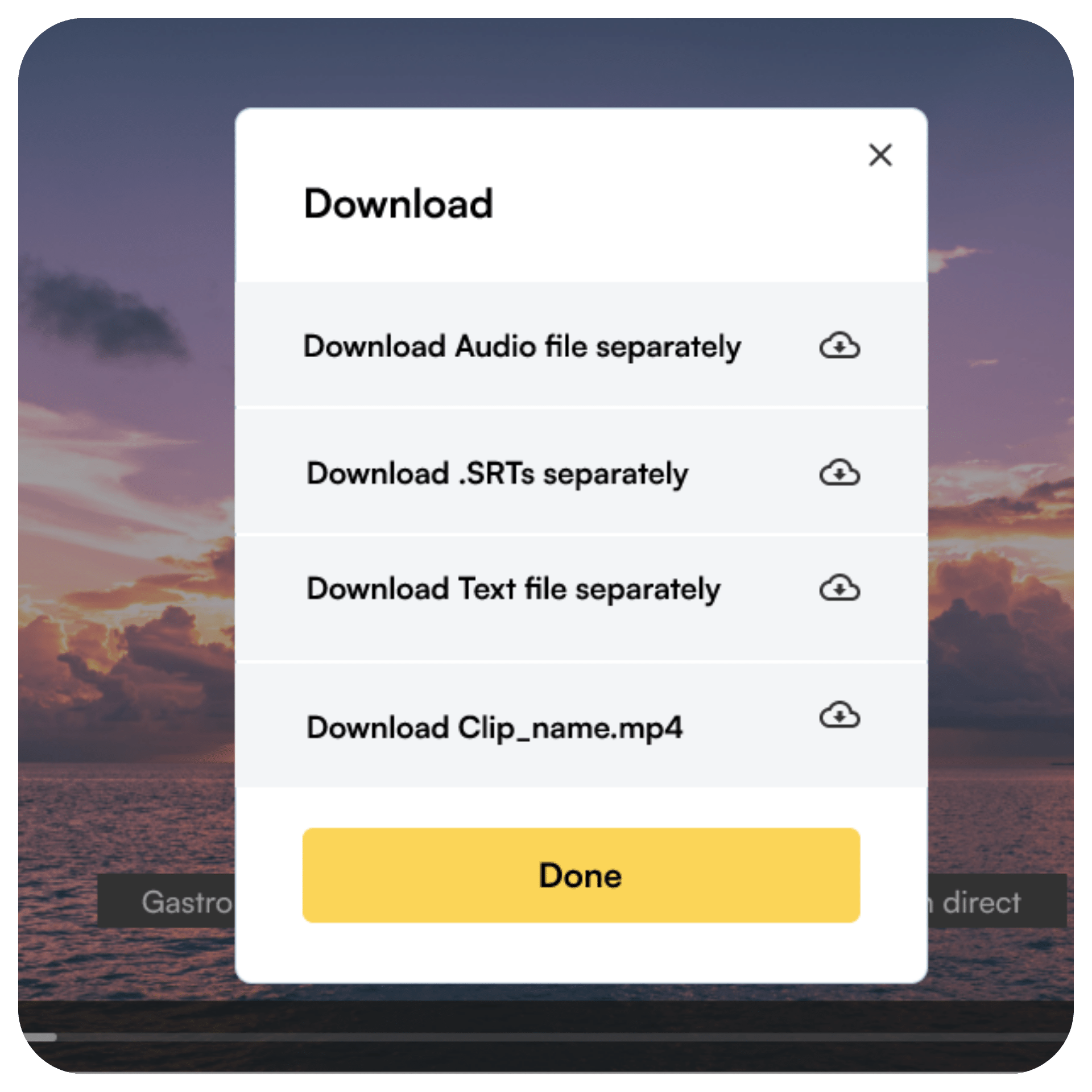 Export more than just video.
Turn text transcripts into articles. Turn your videos into audio podcasts. Download .SRTs to edit further in another video editor. The only limit is your imagination.
"Game changer. We just upload our longer videos and turn them into social media savvy content in just a few clicks. Subtitles and all!"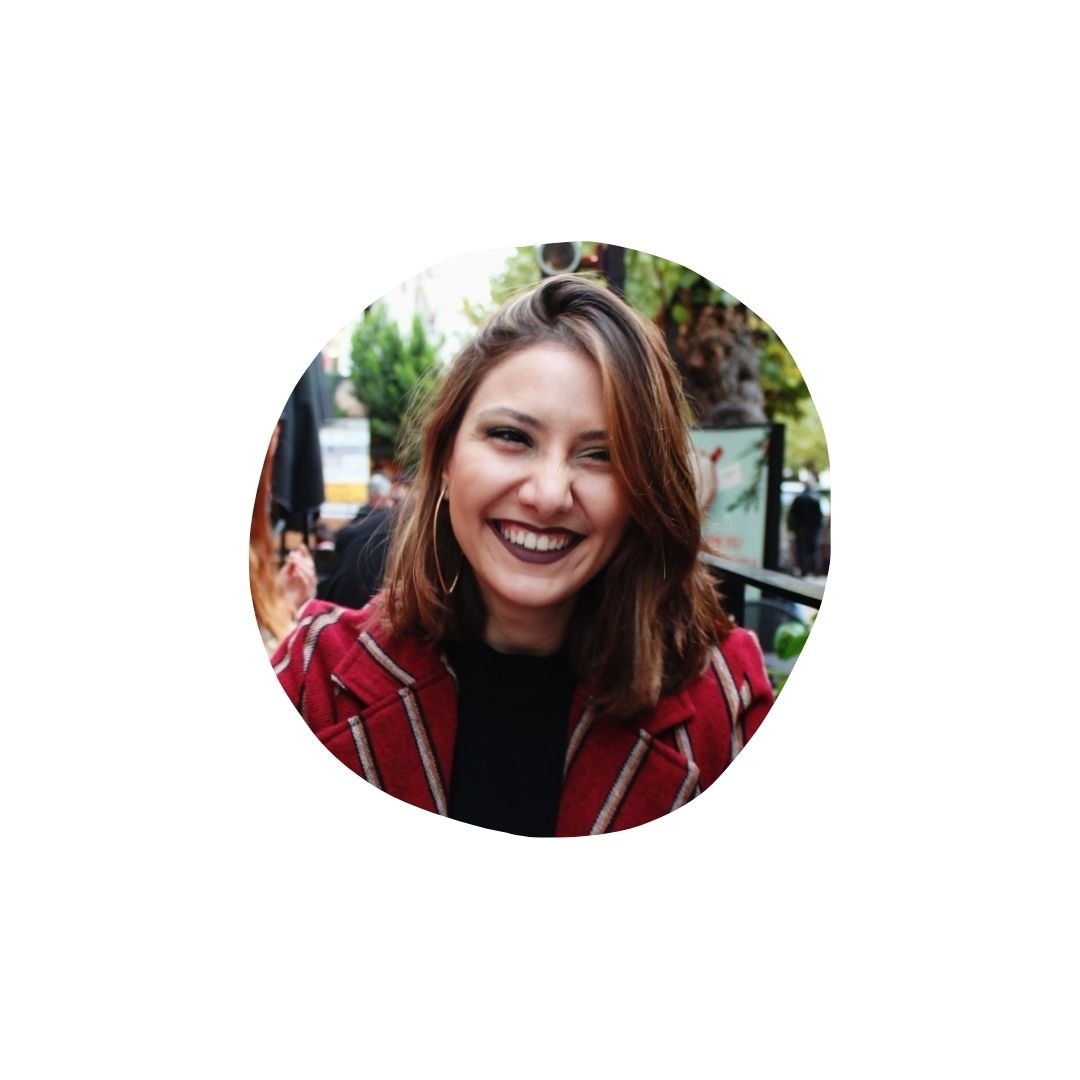 Get back lost time.
Be the first to get access to chopcast once the next cohort opens up in Q1' 2022.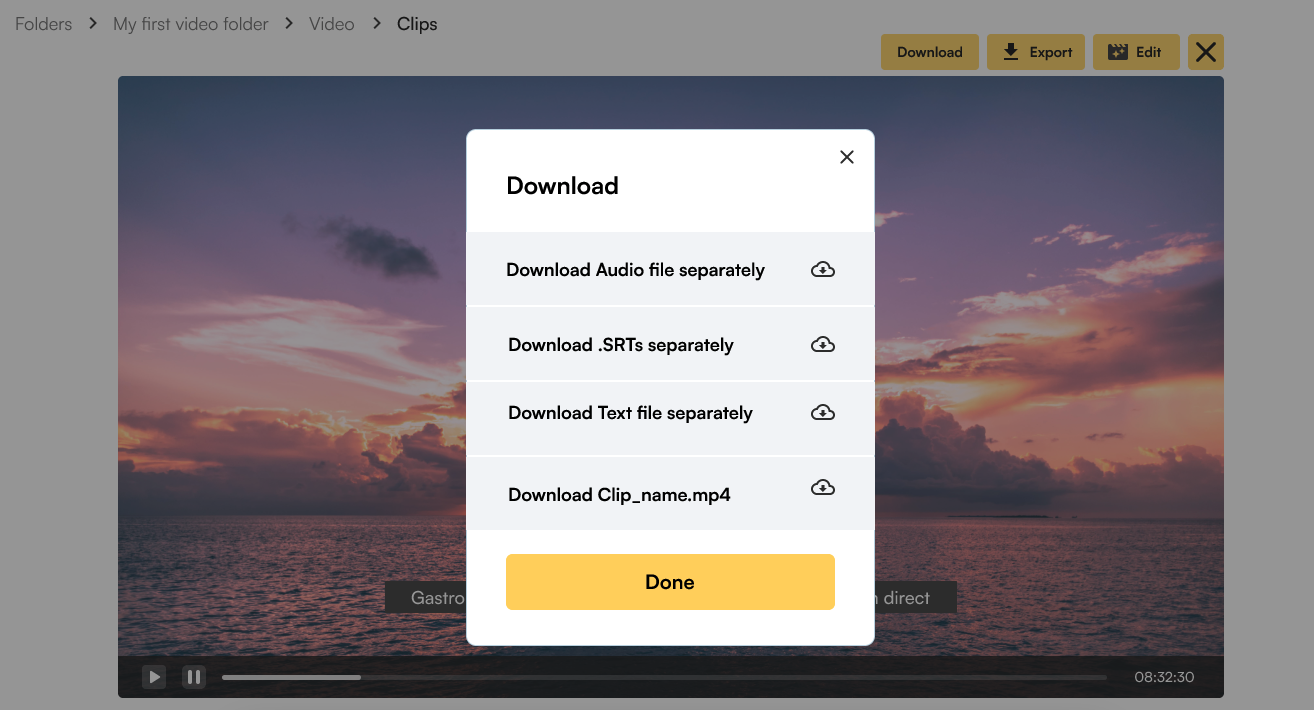 Now available for pre-order.
Join our tiny tribe of creators and marketers. Check out the benefits of pre-ordering today.
Pre-order terms and benefits.
Enrolment for cohort 1 is closed. Cohort 2 is scheduled to open sometime near April 2022.
Sign up for pre-order from $0.06/min and enjoy exclusive benefits.
No-questions-asked refund policy
You can get a refund anytime before we launch. No questions asked.
30-day risk-free guarantee
If we've released and you don't like it, you have 30 days to get a full refund.
Any future price increases will not affect you if you're on a pre-ordered plan.
Access to our closed-doors slack group
Share and vote on what features we should build next.
As an early adopter, you will get priority support, personally monitored by our co-founders.
If a feature is not working as intended and a fix is delayed, our team will recreate it free of charge.
Pricing
Pre-order subscriptions are now open from $0.06/min.
Mini
CURRENTLY UNAVAILABLE
($49/m)

Perfect for solo creators
---
Paid monthly
180 upload mins
20 GB
Unlimited subtitling and exports
Standard support
LIMITED TIME OFFER
Pro (Pre-order)
9 remaining!
($83/m paid annually)
Perfect for content teams serious about growth
---
Paid annually
1200 upload mins
100 GB
Unlimited subtitling and exports
Priority support
24/7 online support
Custom
Let's talk
Perfect for agencies, publishers, and enterprise content teams.
---
Unlimited mins
Unlimited storage
Multiple brand guidelines support
Unlimited exports
Dedicated consultant
Custom templates, done-for-you service credits, and more.
Register your interest monthly payments?
Let's talkWant to commit annually but pay monthly? Let us know and we still have open slots on the Pro plan ($99/m but pa. All the pre-order benefits apply here too. Book a call with us to understand your use case.
PRE-ORDER NOW ($99/month)
What is chopcast?
chopcast is a content repurposing platform that helps you automatically turn long videos into clips for social based on key moments.
How does chopcast find key moments?
Using our proprietary methods and technology, we identify engaging topics and segments based on analyzing each video individually against large data sets and inferences. chopcast will learn from you the more you use it, too.
How does chopcast charge me?
You pay for minutes uploaded (the total duration of the original videos you're uploading). You get unlimited free auto-subtitling and exports.
All pre-order plans are paid annually, and we have some slots if you wish to commit annually and pay monthly instead.
What content can I repurpose?
Long-form videos like webinars, livestreams, video podcasts, virtual event footage, online courses, meetings, and more.
My team already uses tools or spends time to repurpose content, how will this help me?
When you choose to do things manually that can be 4-8x faster through the help of automation, you're paying 4-8x more than others for the same results. This cost is compounded when you try to use multiple video editors, subtitling services, and other tools that don't speak to one another seamlessly. chopcast is all-in-one. If your time is worth more than $2/hr, chopcast makes financial sense. Check out our ROI calculator
Can I edit the auto-generated content?
Absolutely! Auto-generated clips can be used as-is or edited as much as you like.
You can also create clips by searching for keywords and topics, or scanning our suggested topics to create clips that way.