How to repurpose livestreams: the 2022 essential guide
This essential guide will teach you how to repurpose your live streams by turning them into tons of evergreen content - without losing your mind!
---
Livestreams require a considerable amount of work, and for that reason, it is vital to learn how to repurpose livestreams. Content should be able to live multiple lives, especially when it is still relevant and stands the test of time most of the time.
You can create many kinds of content from livestreams; the possibilities are truly endless. Keep reading to find out how you can spin a livestream in multiple ways to develop lots of different content to achieve your objectives.
How to repurpose livestreams:
Create teaser videos to increase interest

Make a video clip series
Write a blog post including the key takeaways
Create Instagram carousels
Make Instagram reels
Create striking image quote cards
Transform the livestream into an audio podcast
Make your livestream into a video podcast
Create a mash-up of videos by editing the best clips together
Make audiograms
Why should you repurpose livestreams?
There are several reasons why you should learn how to repurpose livestreams. For one thing, content is the king when it comes to online marketing. In saying that, it can take a lot of time and energy to create a variety of high-quality content. What's more, it often requires a team of people, and for small businesses and brands, it can be hard to fund all of this.
Pro Tip: This article is part of a longer series on how to repurpose content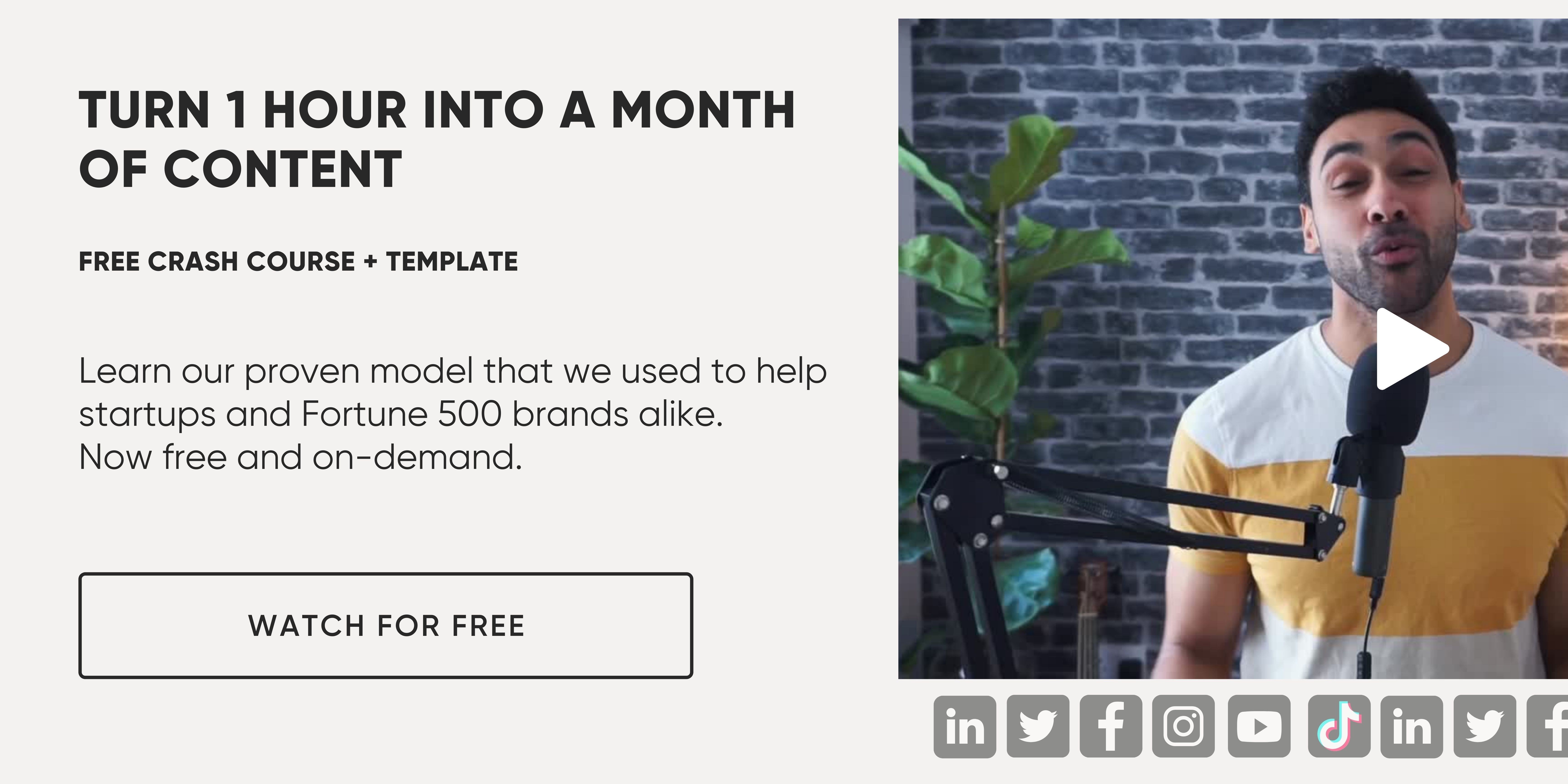 Therefore, livestreams make for great content to be reused because they are usually lengthy. You can chop them up into smaller clips, video series, or extract the material and create a blog post around the topic, among many other things. Reusing content is also a great way to grow your audience and increase your exposure.
As you can tell, two of the main benefits are the results and the time-saving aspect. You get to make the most out of your current content but show it in different formats. For that one livestream you spent so much time on; you could create five or more pieces of content out of it.
10 Ways to repurpose livestreams
Now you understand precisely why repurposing content such as livestreams is important. So, let's explore how to repurpose livestreams.
Create teaser videos to increase interest
When it comes to longer content like livestreams, it is a great idea to build up some momentum by creating teaser videos. Think of it as a trailer for a movie that creates hype and starts conversations. The only difference here is your livestream would have already been released.
Depending on whether you decide to transform it into an audio or video podcast, you can create some short teaser videos. Then, share these across your social media platforms. This is sure to get people excited. Additionally, because they are short, people are more likely to watch them and see if the entire livestream content is relevant to them.
Depending on the nature of your livestream, one great way to repurpose livestream content is by creating a video clip series. For example, if your livestream was all about how to do content marketing, you could break the livestream up. You could chop it into separate video clips and create a playlist.
Think of it as a short online course. The first video could be an introduction to the topic, followed by an explanation of content marketing. Then it could include a clip about the platforms you can use, then clips for tips for each of the platforms, and so on.
Write a blog post including the key takeaways
When thinking about how to repurpose livestreams, blog posts can be an excellent way to do so. The nature of a blog post is to speak about a topic and provide key takeaways. Not everyone has the time to sit through a livestream or long forms of content. In addition, sometimes they are unavailable.
You can write up a blog post including all the key takeaways from the session, and they can access this in their own time. Additionally, you can SEO optimise the blog, which will help improve your ranking in Google. See, a win, win scenario!
Create Instagram carousels
For those who are not fluent in social media, Instagram carousels refer to a post with multiple videos or photos. These can be seen by swiping or clicking left. Generally, up to 10 photos or videos can be added, and then they are shared as a single post on your feed.
This can be a great way to repurpose your livestreams as we live in such a visual world. People are constantly strolling through their feed, and one way to stop them is by delivering a beautiful post. You could use the audio from the livestream, insert some great photos and post this on your Instagram feed.
Instagram reels are also fantastic when it comes to how to repurpose livestreams. These are short but sweet, entertaining videos where you can get creative. One big benefit of Instagram reels is the increased visibility. They essentially offer an additional way to target your audience. Instagram reels also have better shareability in that they do not vanish after 24 hours as stories do.
You could include a series of motion graphics that include the key takeaways, using a tool such as Canva, for example. There are so many ways you can use Instagram reels to repurpose the content and takeaways from your livestream.
Create striking image quote cards
As mentioned previously, we live in such a visual world these days. What's more, social media is so populated with content that it is tough to compete. One great way to stand out while also repurposing your livestreams is by creating some striking image quote cards.
You can get very creative doing this, using different colours, fonts, and graphics. Image quote cards also make for great re-shareable content on social media. If it is a quote from a guest you had on your livestream, you can also tag them so they share it with their audience.
Transform the livestream into an audio podcast
Another thing that can help when it comes to how to repurpose livestreams is transforming your livestream into an audio podcast. Content forms like blogs are essential. However, the internet is pretty overpopulated, making it quite competitive.
Podcasts are becoming incredibly popular, but they have only gotten that way in the last number of years. There aren't as many podcasts as there are blogs, making audio podcasts less competitive. Simply grab the audio from your livestream and upload that to Spotify. People love audio podcasts since they are multi-tasking media – you can go for a walk, clean, or work while listening.
Make your livestream into a video podcast
As mentioned above, podcasts are becoming very popular, and they are less competitive than the likes of blogs. In addition, not everyone is available to watch your live social media streams.
Video podcasts make for a great option when trying to repurpose your livestream content. You simply keep it as is and upload the content to YouTube for people to watch online in their own time.
9. Create a mash-up of videos
When it comes to figuring out how to repurpose livestreams, another good method is by creating a mash-up of videos. Simply drop your livestream into some video editing software, choose the best clips, and mash them together.
This can make the content more valuable for your audience as you are making sure it is jam-packed with important takeaways. You can also create blooper videos from this of candid conversations or um's and ah's for some funny content to show your audience you are human like them.
10. Make audiograms
For those who do not know, audiograms are essentially an animation of audio waves that chart sound frequencies. Most social media platforms only allow users to share videos and pictures as posts. What makes audiograms special is creators can reformat the audio files so that your audience can share these videos.
They prove to be a great way to promote your work and services on social media. When it comes to how to repurpose livestreams, you can create some audiograms of the different crucial parts of your livestream. For example, if you had a guest and they shared some of their best practices for social media.
Final thoughts - how to repurpose livestreams
Content marketing is vital for social media and increasing brand awareness. However, creating high-quality content can take substantial time and often requires expert help. This is where repurposing comes in and can reduce a lot of the manpower.
It is essential to learn how to repurpose livestreams. You would be shocked at the amount of content you can extract from one livestream. Content shouldn't be used once only to die; it should be recycled multiple times.
This is where Chopcast could prove useful for your business. You can chop up your long-form content into easy-to-digest snippets for social media sharing. For more information, contact us today!