Join other marketers, podcasters, and B2B creators we've helped repurpose content including:
Play videos easily.
Streamline your video viewing experience with chopcast's online video player. Designed to support a plethora of formats and deliver high-quality streams, our player ensures your viewers never miss a beat. With capabilities to handle videos hosted on any platform and cater to any device, our player is truly universal. Plus, with 100% editable features, you have total control over how your video is presented. Step into a seamless viewing experience with chopcast's online video player.
"I've looked at several different solutions to use AI to generate shorts and derivative content from long-form videos and Chopcast has the most versatile and easy-to-use solution I've found."
"chopcast helps us easily search our videos by topic and create social clips based on them. Saved us a lot of time to create engaging content versus trying to do everything manually."
How to use online video player with chopcast?
1. Upload your video
Begin by uploading your video to chopcast's platform.
2. Customize settings
Tailor video settings to your preference, including quality, speed, and language for subtitles, if necessary.
3. Stream and share
With your video ready, stream it directly within chopcast or share it on your chosen platform.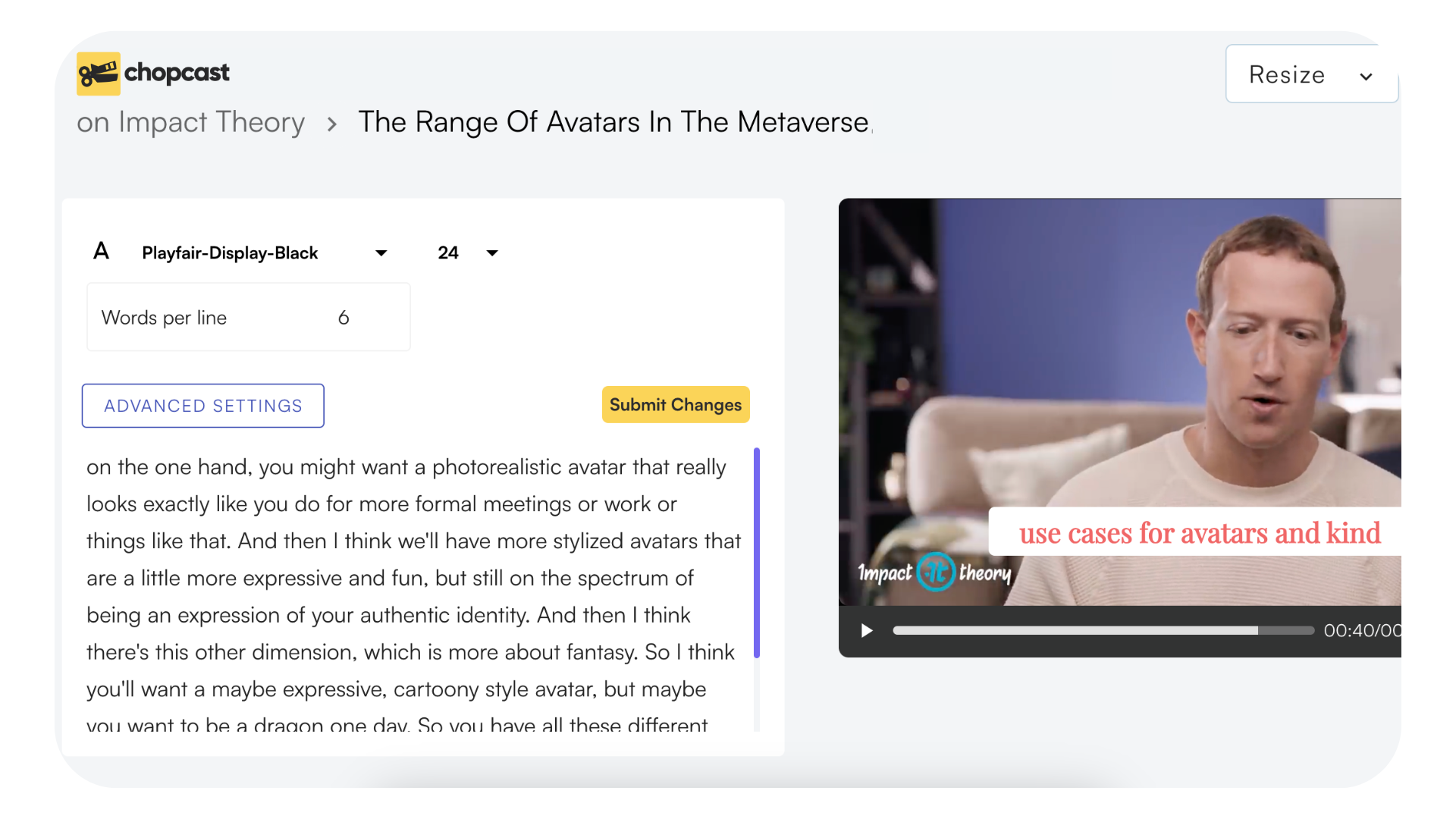 START FREE
Ready to stream with online video player? Start editing now.
Start editing now
DONE-FOR-YOU
Need a video repurposing team?
Try 1 week free on our monthly plans.
Why use an online video player with chopcast?
Reliable streaming anywhere
Chopcast's online video player offers reliable, high-quality streaming across any device. Whether your viewers are tuning in from their phones, tablets, or desktops, we deliver consistent performance and optimal viewing experience.
Format-friendly
With support for a wide range of video formats, our online video player eliminates compatibility issues. You can upload and stream your content without worrying about format restrictions.
Customizable controls
With 100% editable features, our online video player puts you in control. Adjust video settings such as display size, playback speed, and quality, ensuring your content is delivered exactly as you intended.
Social integration
Ready to share? Our Online Video Player integrates seamlessly with various social platforms, allowing you to stream your videos directly where your audience is. From showcasing product demos on your website to sharing tutorial videos on social media, we make it easy.
"When we uploaded a video to chopcast, it created auto-clips that overlapped 70-80% with ones we manually picked before, except this was done in minutes!"
"Before Chopcast, we had to take notes during our recordings of possible clips to extract. After the recording, we would sift through potential clips and crop them - entirely manual process. Chopcast took 99% of the manual labor out of extracting clips."
"I'm paying and love the tool. It has saved so much time editing shot clips from the High Tech Sales Podcast"
"I've tried a few different tools for video clips, but nothing has been as seamless as Chopcast. I use it to create short clips out of long form podcast videos for YouTube, Instagram, Facebook, Twitter, and TikTok."
"Chopcast helped me to identify tips I was sharing with clients anyway and to repurpose those on social media. I've had a couple of clients connect back in with me because I have been sharing videos."
"Awesome job! [The podcast shorts] are perfect. You guys are the best!! And you can take my statements here as testimony of how happy we are with your work at chopcast"
"It's been hugely positive for the organization to continuously have pipeline coming into the system."
"Thanks to chopcast services, we've really gotten into a good rhythm of production and have lots of great content to use for our social channels!"
"The big unlock in working with chopcast was creating shorts at scale. The following on my personal channel is up 100% YoY. Reach is way up as well for our company channels."
"We do so many webinars. Before, we were taking our webinars and slicing them ourselves, and that wasn't efficient. I would say we get a better output faster and time back working with chopcast."
"Game changer. We just upload our longer videos and turn them into social media-savvy content in just a few clicks. Subtitles and all!"
"Working with chopcast we could post-produce microcontent of the highlights from sessions we've recorded. It saved us so much time. They can self-select the best highlights to be distributed on social. They'll see opportunities in what you're creating that you don't see. It's been a great partnership. For any marketing leaders considering it, I say go and do it!"
FAQs: online video player
What types of video formats does the online video player support?
Chopcast's online video player was designed to be versatile - it supports a wide range of video formats. This ensures a smooth and hassle-free streaming experience for you, no matter the format of your videos.
Is the video player compatible with all devices?
Yes! our video player is designed to work seamlessly on any device, whether it's a mobile phone, tablet, desktop, or even smart TVs.
Can I customize video settings on the online video player?
Absolutely! chopcast's online video player comes with fully editable features. You can easily customize the playback speed, display size, video quality, and more according to your needs.
Can I share or embed videos on other platforms with this online video player?
Yes, you can! Our player has integration capabilities with various platforms, enabling you to easily share your videos or embed them wherever you want your audience to view them.
What is the best online video player?
While many platforms offer online video players, Chopcast stands out for its seamless experience, compatibility, and user-centric features. We invite users to try and compare.
How to play videos online?
With chopcast, playing videos online is a breeze. Just navigate to our platform, upload your video, and enjoy smooth streaming.
What is the alternative online video player?
There are several video players online, but chopcast offers a unique blend of simplicity and performance. If you're looking for a reliable and smooth video playback experience, give us a try.
What is the free video player for Chrome?
Chopcast's online video player is browser-agnostic and offers superior performance on Chrome and other major browsers.
Can VLC play online videos?
Yes, VLC can stream online videos. However, for a dedicated online experience, chopcast's video player provides intuitive and optimized playback.
Is VLC still the best player?
VLC is a robust desktop player, but when it comes to online streaming, platforms like chopcast are tailored to provide the best online video playback experience.
Start free
Ready to stream with online video player?
Start playing now.
DONE-FOR-YOU
Need help creating short videos at scale?
Try 1 week free on our monthly plans.
Why use

chopcast

?
Upload your videos to chopcast's video editor. It'll watch them, and create thoughtful clips based on the key moments using AI that you can edit and share that are sure to get you noticed.

TikToks
Turn webinars, podcasts, and YouTube videos into great clips using AI in minutes.
Automatic video subtitling
Get 97% accuracy subtitles for your videos and clips. Edit anything on the fly.
Video, text, audio, and more
Video's only the start. Get instant transcripts, .SRT files, audiograms, and more.
Manage your clips in one place
No more hours lost searching long videos. Create and manage clips in one place.
Resize, change aspect ratio to suit all social platforms.
Instantly remove audio imperfections with 1 click.
Remove parts of your video by deleting/editing text.
Designed to grow your reach and engagement.
Not sure where to start?
Stream videos and more with chopcast.
Chopcast helps you turn videos into shorts. We offer a free-to-use AI platform, as well as done-for-you plans.