#1 HUMAN-LIKE AI CLIPPING TOOL
1 recording,
10+ clips.
Dominate your niche in mins. Turn any talking video into social clips designed to get you noticed. 100% editable.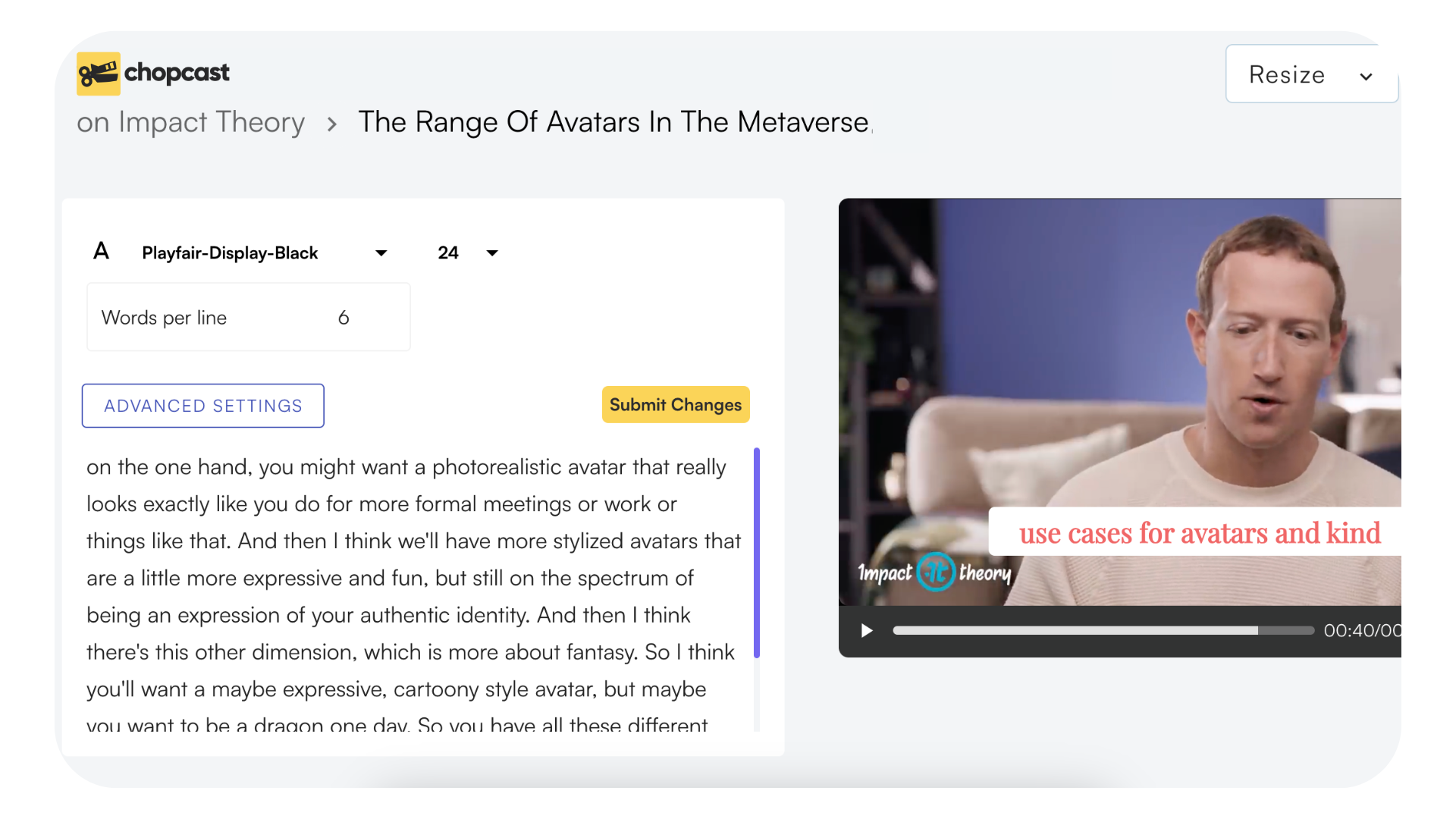 Join other marketers, podcasters, and B2B creators we've helped repurpose content, including:

Works

automatically

. Just add videos.
Yup. Just copy and paste your videos. What's more, you can create your own clips based on speaker detection, topic selection, and more. Like what you made? Export as a TikTok, YouTube Short, Reel, or all the above, and then some.
"I've looked at several different solutions to use AI to generate shorts and derivative content from long-form videos and Chopcast has the most versatile and easy-to-use solution I've found."
"Chopcast helped me to identify tips I was sharing with clients anyway and to repurpose those on social media. I've had a couple of clients connect back in with me because I have been sharing videos."
"Before Chopcast, we had to take notes during our recordings of possible clips to extract. After the recording, we would sift through potential clips and crop them - entirely manual process. Chopcast took 99% of the manual labor out of extracting clips."
"I am the founder and CEO of ThePodPlanet.com. I've tried a few different tools for video clips, but nothing has been as seamless as Chopcast. I use it to create short clips out of long form podcast videos for YouTube, Instagram, Facebook, Twitter, and TikTok."
"chopcast helps us easily search our videos by topic and create social clips based on them. Saved us a lot of time to create engaging content versus trying to do everything manually."
"I'm paying and love the tool. It has saved so much time editing shot clips from the High Tech Sales Podcast"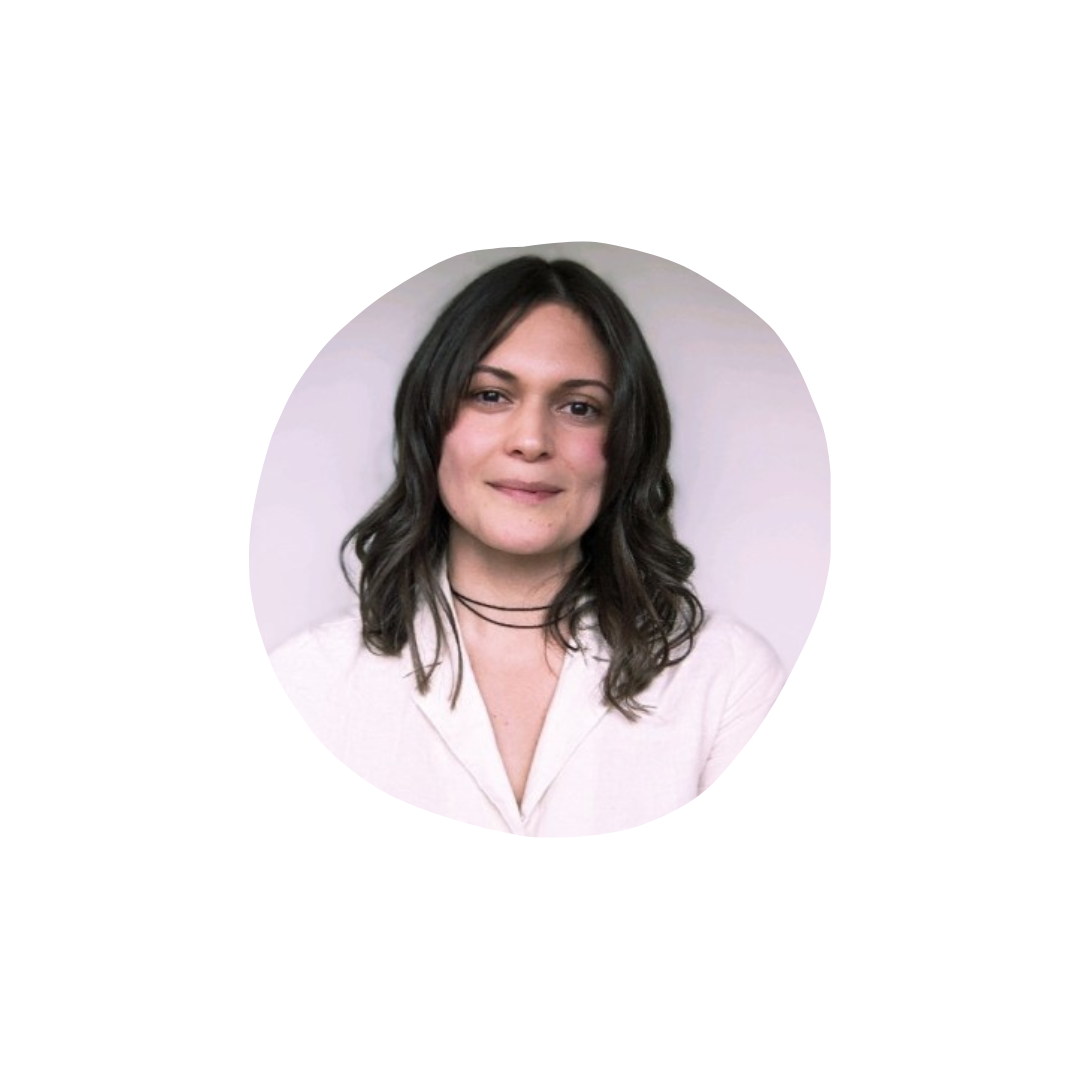 "When we uploaded a video to chopcast, it created auto-clips that overlapped 70-80% with ones we manually picked before, except this was done in minutes!"
Find key moments in seconds.
Get auto-suggested clips based on topics discussed in your videos or search for your own keywords and topics. Resize them to your liking and export away.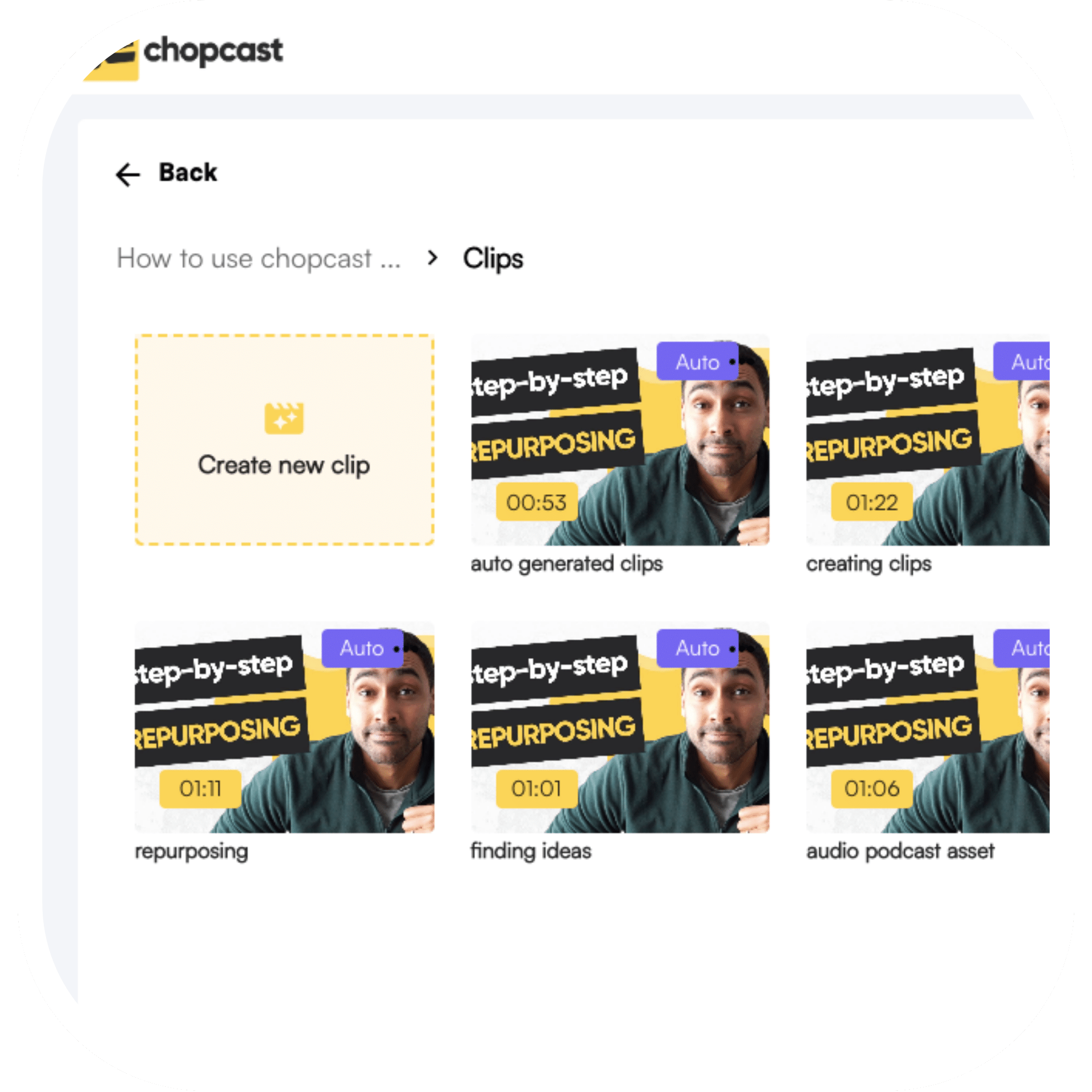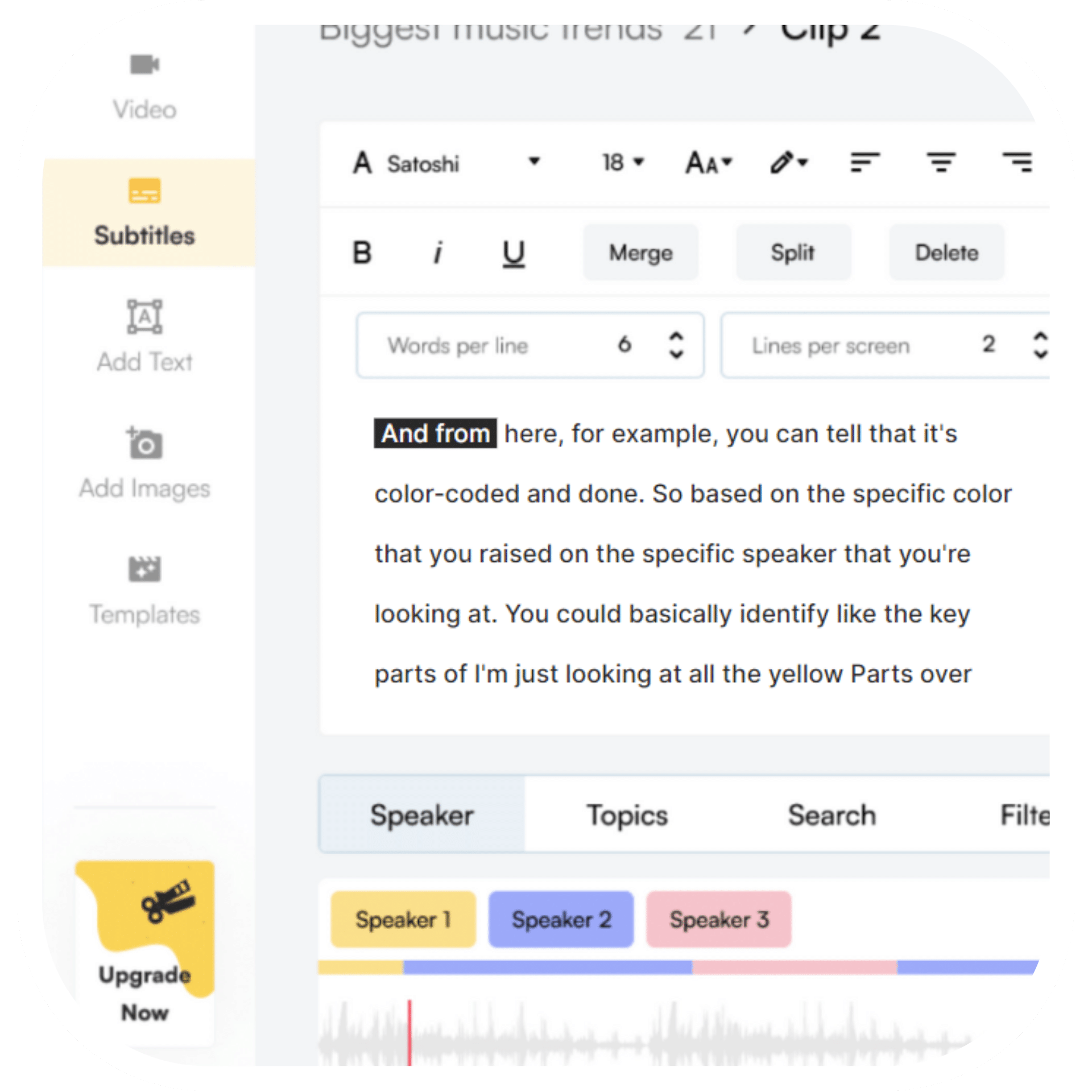 Instant subtitles.
Caption your videos automatically with >95% accuracy for most webinars/video podcasts. Edit, burn to video, or export as .SRT. It's your world.
Chop by speaker, topic, and more.
In addition to getting auto-generated clips, you can easily create and edit your clips based on an ever-growing variety of filters.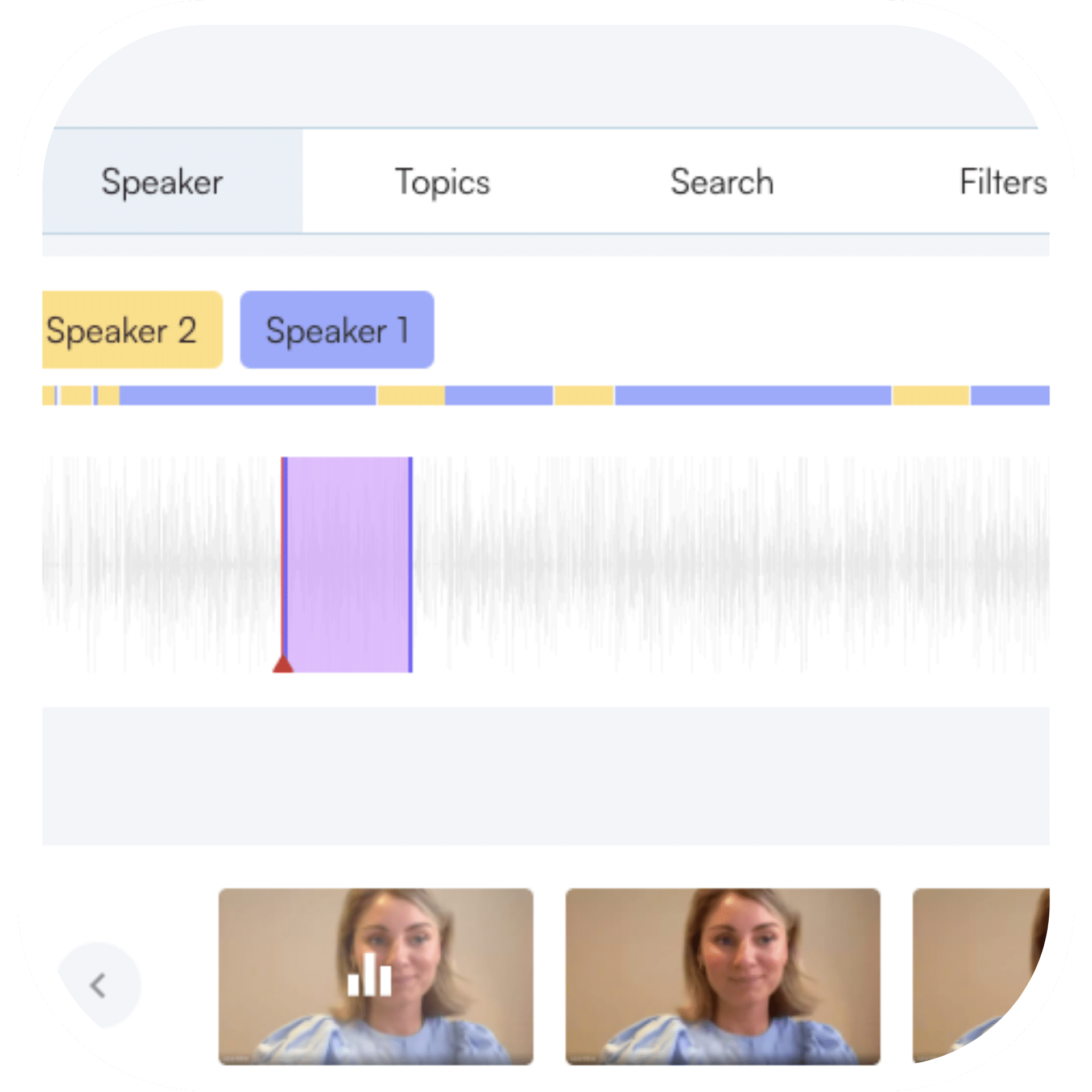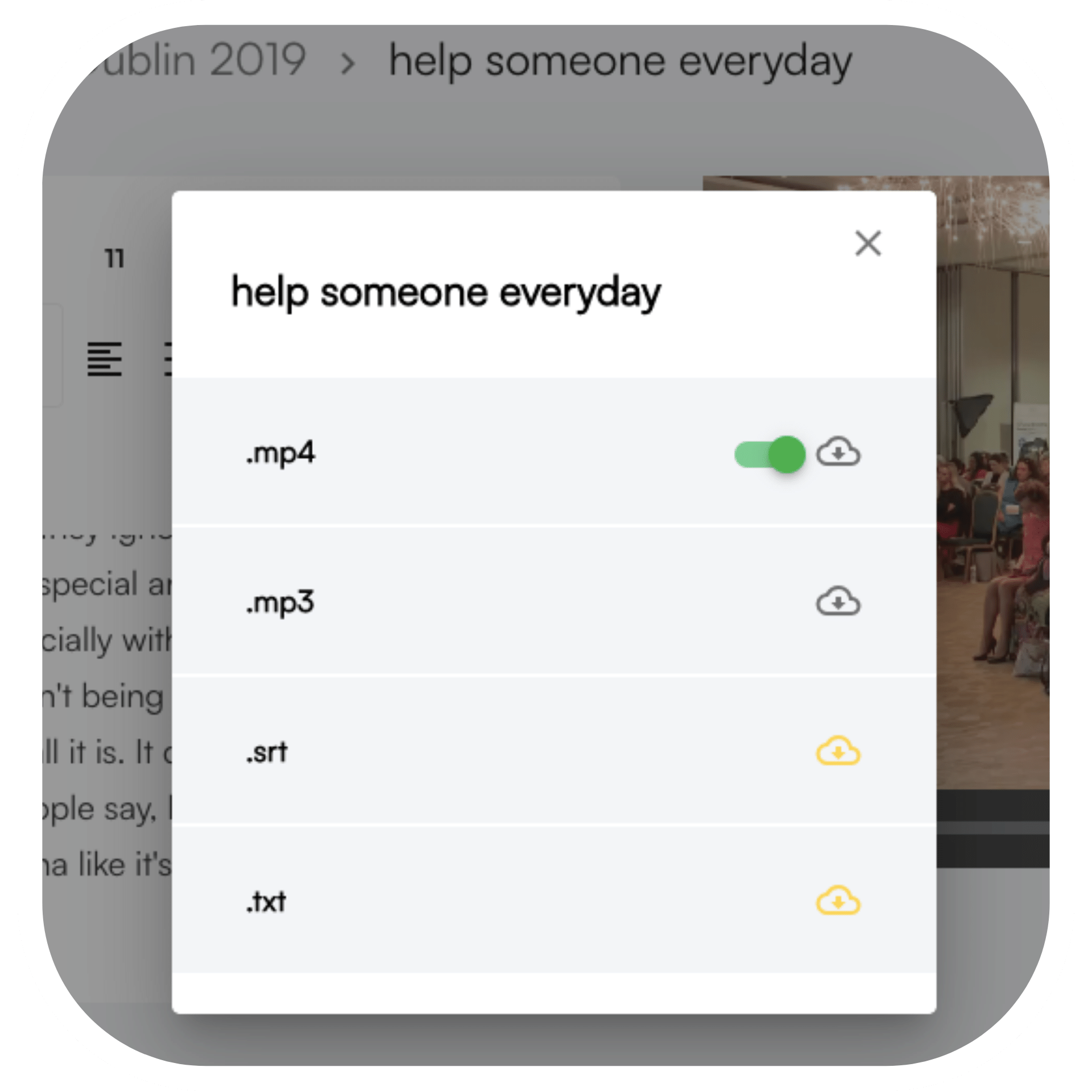 Export more than just video.
Turn text transcripts into articles. Turn your videos into audio podcasts. Download .SRTs to edit further in another video editor. The only limit is your imagination.
And yes, we speak your language 🎉
We have language support Dutch, French, German, Italian, Spanish, Japanese, Chinese, Portuguese, Ukranian, and lot's more.
"Game changer. We just upload our longer videos and turn them into social media savvy content in just a few clicks. Subtitles and all!"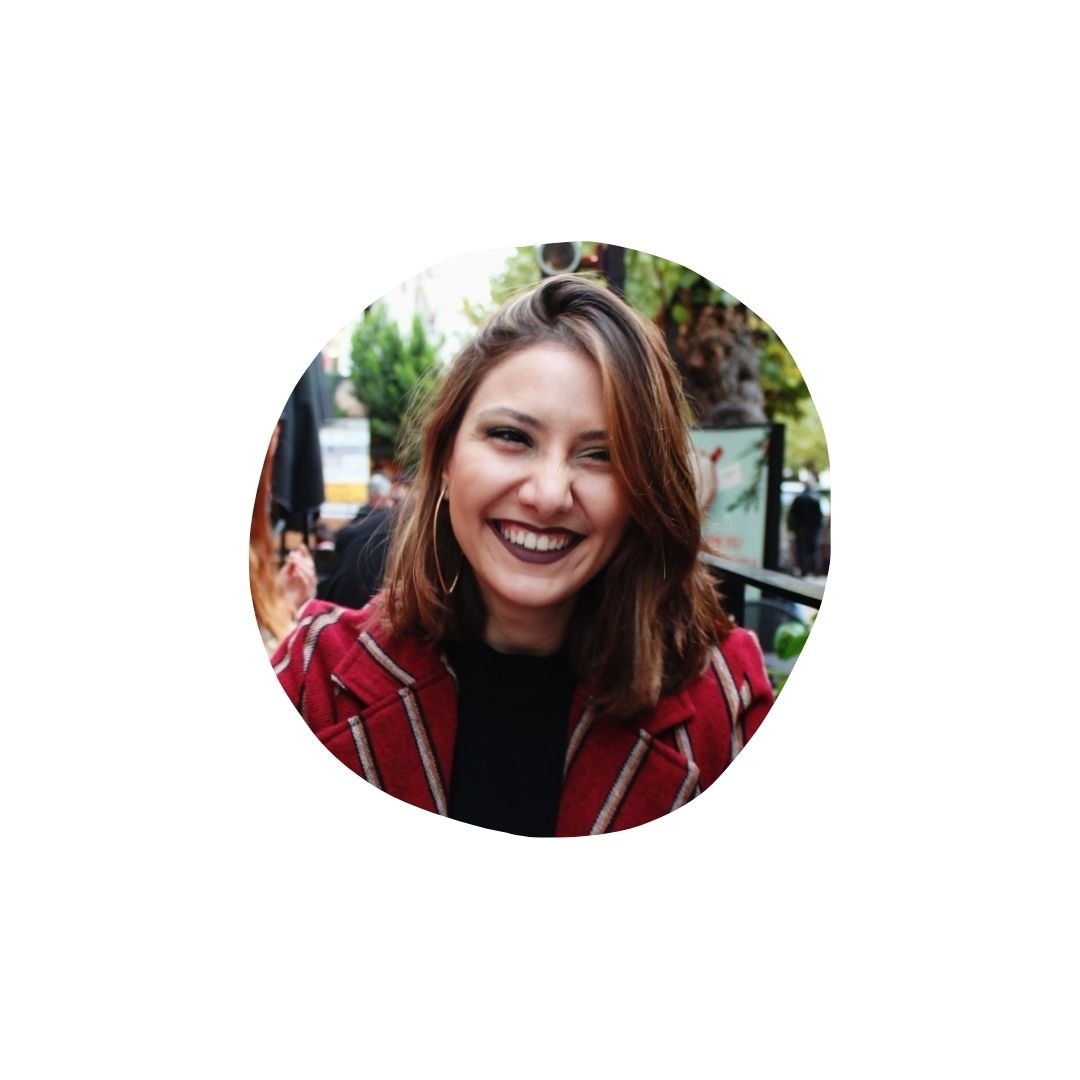 Jump into our free courses
Course 1: Record
Learn how to launch a successful B2B video series now.
✓ 26 modules to help you become a thought leader in your niche.
✓ Exclusive Show Strategy sheet included
✓ Never run out of content ideas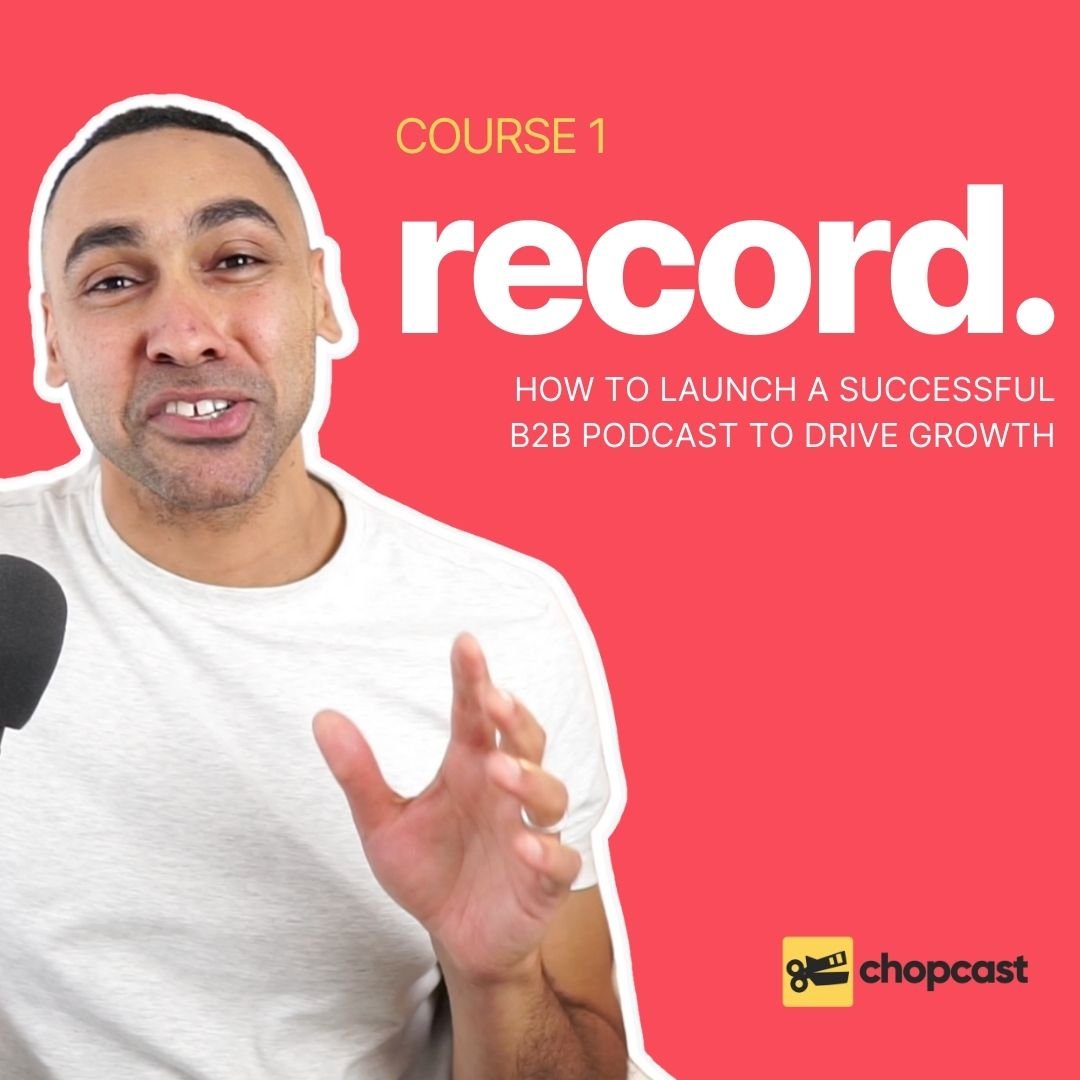 Course 2: Repurpose
Learn how to turn your B2B recordings into a content goldmine.
✓ 35 modules to help you repurpose any webinar, podcast, or event.
✓ Make existing content work harder for you.
✓ Grab attention in 3 seconds or less.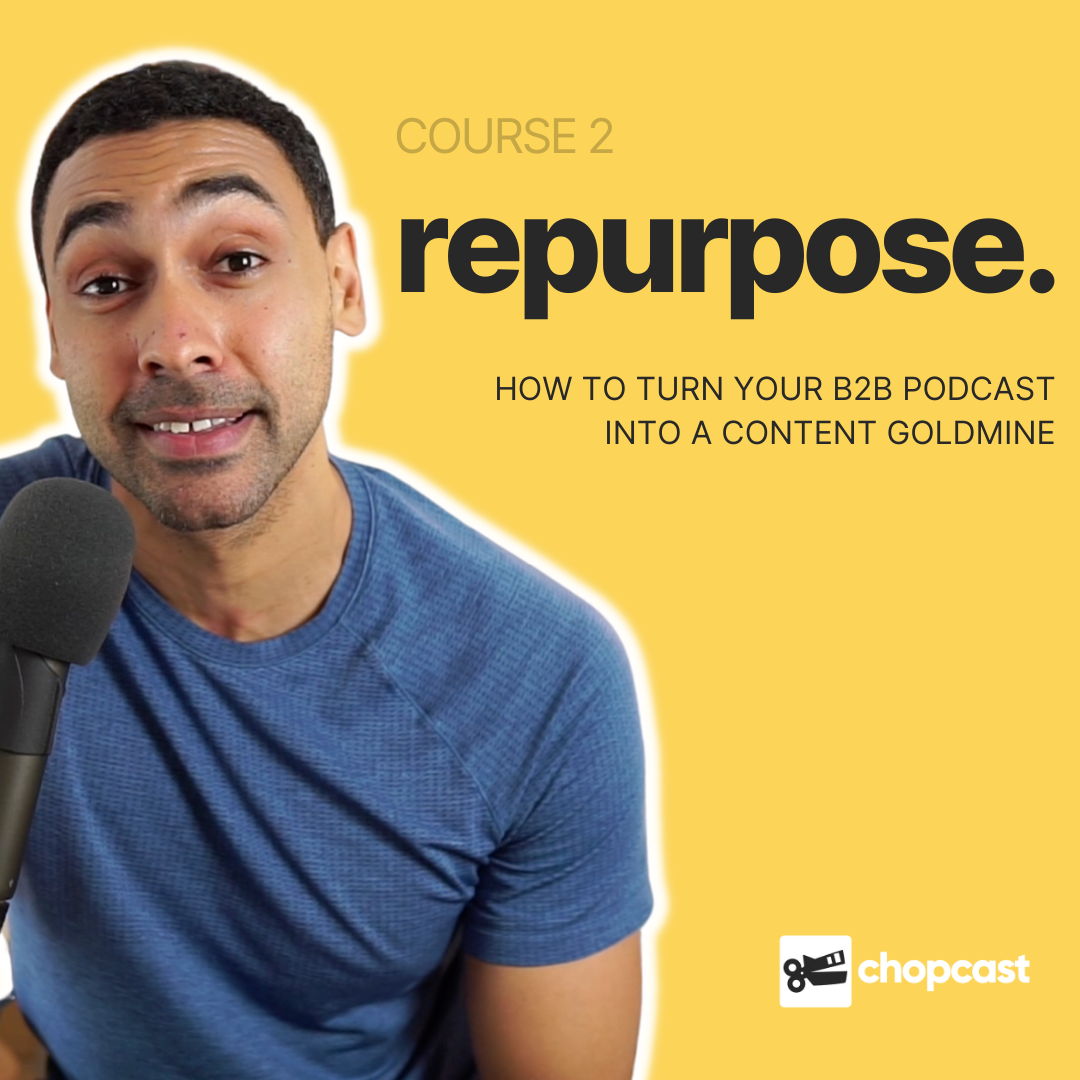 Get back lost time.
Creating and repurposing video and webinar content was never so easy. Start saving time with chopcast!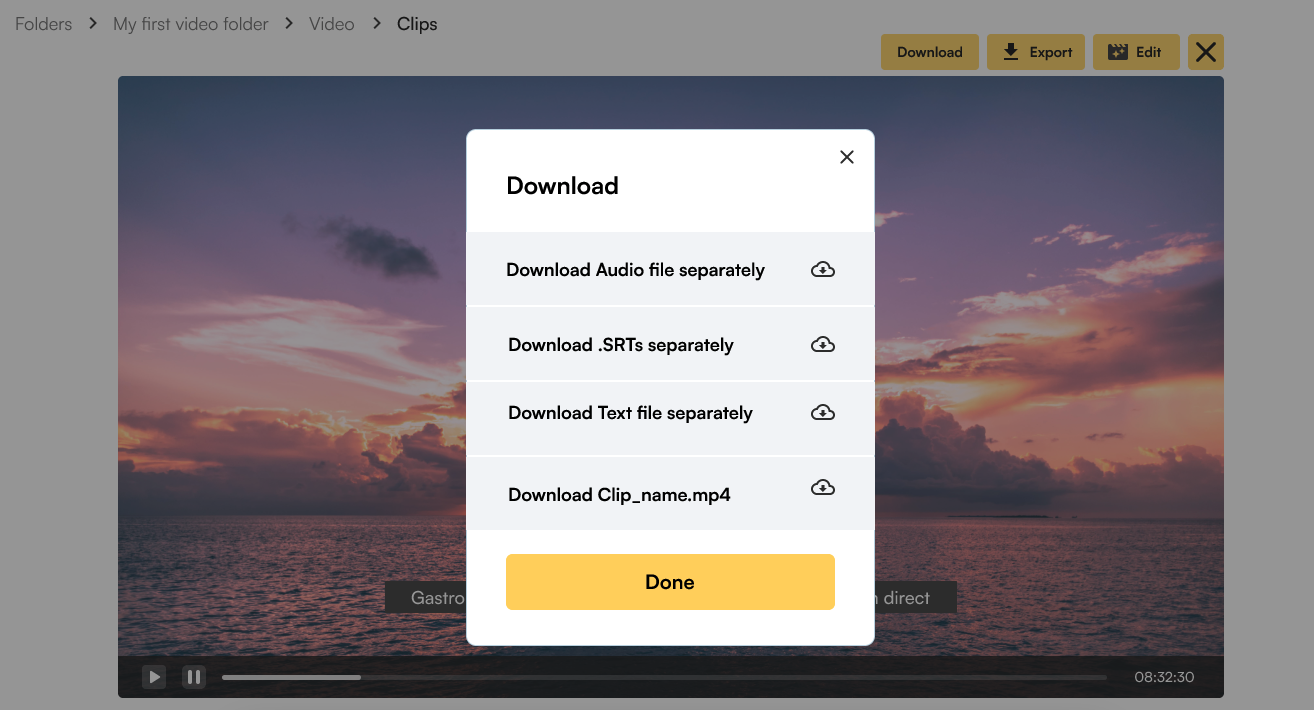 Scale your content overnight
Drive up to 72% more reach and engagement by repurposing your webinars, streams, and podcasts into snackable assets regularly.
Acquire new leads 2-4x more cost-effectively by turning your webinars and YouTube videos into short-form content at scale.
Drive 25%+ more pipeline from your existing content through smart content workflows that run themselves.
Get back 10+ hrs per week
Save time on manual content creation, editing, hiring agencies and training VAs, allowing you to focus on strategic priorities.
Rapidly create short-form video and image creatives at scale so you can run A/B multivariate tests and continually optimize spend.
Be everywhere your customers are. Think 1 webinar into 10s of binge-worth content for your social channels - every week!
Want to make changes? Chopcast makes that easy, and will learn from your behavior to provide smarter suggestions in the future.
Cross-department use cases
Works for teams across the org. Create and share recordings for marketing, sales, events, HR, and more.
Go further with your recordings.
Turn your webinars, events, and video podcast content into tons of revenue-generating assets in minutes.
Turn videos into auto-generated clips based on key moments using NLP. 100% editable.
Automatic video subtitling
Get 97% accuracy subtitling of your videos. Need to make a change? Click to edit on the fly.
Video's just the start. Get instant transcripts, .SRT files, and audio podcasts for content you upload.
Rapidly create intelligent clips based on topics you add. No more manual watching hours upon hours of content.
What is chopcast?
Chopcast uses NLP to automatically find, edit, and share key moments in your long recordings, allowing you to share them internally with your team or externally on your marketing and sales channels.
How does chopcast find key moments?
Using our proprietary methods and technology, we identify engaging topics and segments based on analyzing each video individually against large data sets and inferences. chopcast will learn from you the more you use it, too.
How does chopcast charge me?
Chopcast has a free-to-use version, and our paid plans come with monthly minute bundles per user. All plans come with free captioning and exporting.
What content can I repurpose?
Long-form videos like webinars, livestreams, video podcasts, virtual event footage, online courses, meetings, and more.
My team already uses a video editing tool, editors, or both. How will this help me?
Video editing tools require you to, well, edit videos. This can be extremely labour intensive when dealing with hours upon hours of long video recordings.
Help your team spend less time on tasks that can be easily automated by simply having them upload their videos to chopcast. This way, they'll identify key moments and create ready-to-share content in a fraction of the time, reducing editing costs by a factor of 8. Need to keep editing? You can export your chopcast creations and post-produce them further in your editor of choice.
Can I edit the auto-generated content?
Absolutely! Auto-generated clips can be used as-is or edited as much as you like.
You can also create clips by searching for keywords and topics, or scanning our suggested topics to create clips that way.
What type of content can I get using chopcast?
You can use chopcast to create:
Videos: Vertical, square, and horizontal captioned short-form videos.
Podcasts: One-click export any video into a podcast.
Articles: One-click export transcripts that can be easily reworked into articles.
.SRT files: Advanced user? Export subtitles from your videos separately to keep editing in your favorite video editing environment.