Join other marketers, podcasters, and B2B creators we've helped repurpose content including:
Resize videos for Instagram easily.
With Chopcast. Our user-friendly platform ensures that your video content perfectly fits Instagram's preferred dimensions, whether for posts, stories, or reels. Simply upload your video, select your desired aspect ratio, and watch as Chopcast does the rest. Plus, with the option to edit 100%, you have full control over your content's final look.
"I've looked at several different solutions to use AI to generate shorts and derivative content from long-form videos and Chopcast has the most versatile and easy-to-use solution I've found."
"chopcast helps us easily search our videos by topic and create social clips based on them. Saved us a lot of time to create engaging content versus trying to do everything manually."
How to resize videos for Instagram with chopcast?
1. Upload your video
Start by uploading your video directly into chopcast
2. Select dimensions
Choose the desired Instagram format, whether for posts, stories, or reels.
3. Export and share
Once your video is perfectly resized for Instagram, export it directly from chopcast and share on your Instagram feed.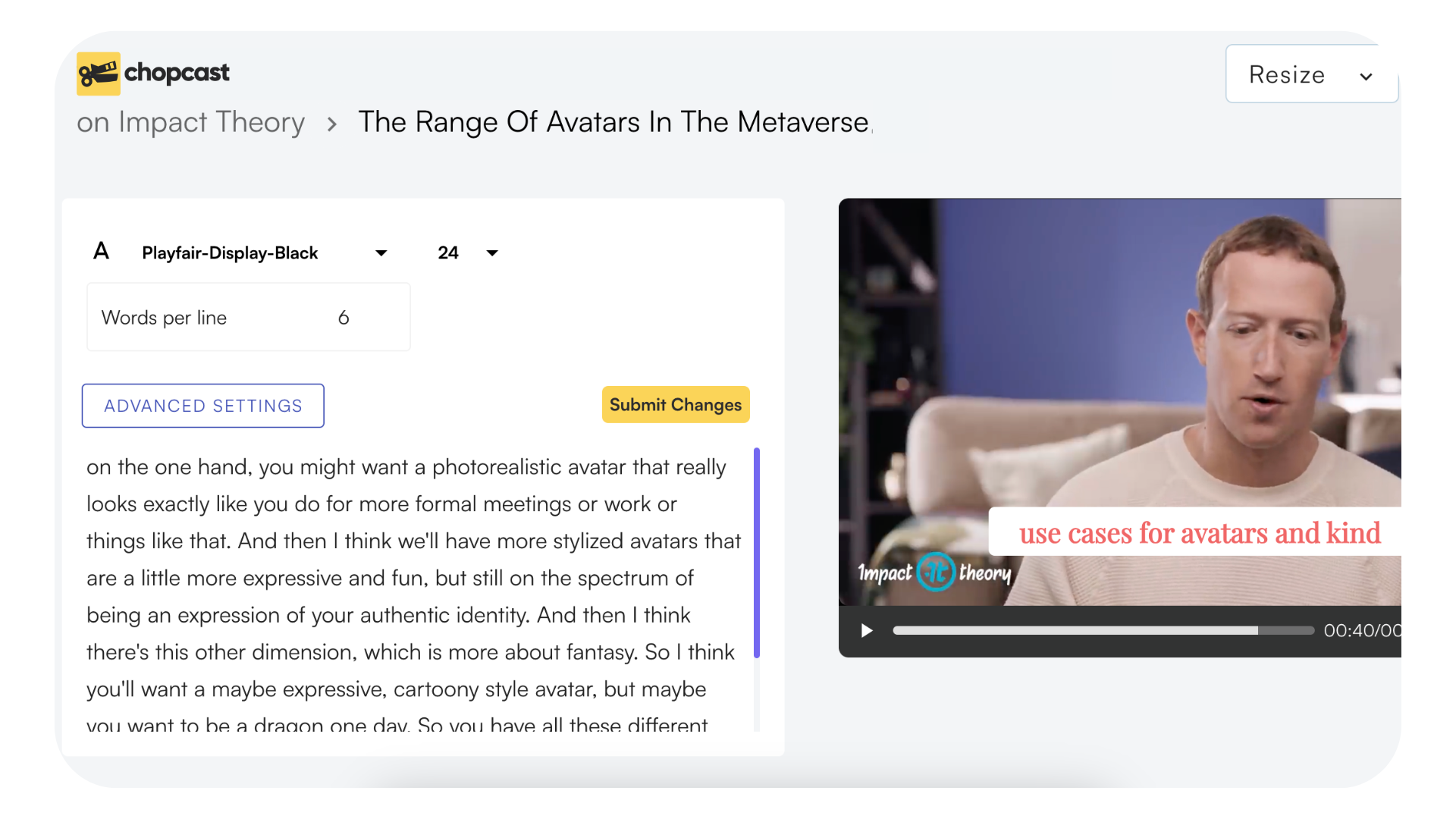 START FREE
Ready to resize videos for Instagram?
Start resizing now with chopcast.
DONE-FOR-YOU
Need a video repurposing team?
Try 1 week free on our monthly plans.
Why resize videos for Instagram with chopcast?
Perfectly frame every post
Instagram's unique aspect ratios can be challenging. With Chopcast, ensure your videos are impeccably adapted for each post, story, or reel. No more important details getting chopped off from your visual stories.
Adapt with ease
Instagram resizing doesn't have to be complicated. Our intuitive interface and convenient presets make video resizing feel like a breeze. Avoid hassle and focus on creating captivating Insta-worthy content.
Never compromise on quality
While resizing, your video quality stays top-notch. Chopcast's advanced techniques allow for resizing without any noticeable loss of quality. Ensure that your Instagram feed always looks professional, crisp and engaging.
Maintain your Instagram aesthetics
Beyond individual posts, cohesive Instagram aesthetics can boost your brand identity and engagement. Resizing videos with chopcast helps maintain consistent dimensions across your feed, supporting your Instagram strategy and aesthetics.
"When we uploaded a video to chopcast, it created auto-clips that overlapped 70-80% with ones we manually picked before, except this was done in minutes!"
"Before Chopcast, we had to take notes during our recordings of possible clips to extract. After the recording, we would sift through potential clips and crop them - entirely manual process. Chopcast took 99% of the manual labor out of extracting clips."
"I'm paying and love the tool. It has saved so much time editing shot clips from the High Tech Sales Podcast"
"I've tried a few different tools for video clips, but nothing has been as seamless as Chopcast. I use it to create short clips out of long form podcast videos for YouTube, Instagram, Facebook, Twitter, and TikTok."
"Chopcast helped me to identify tips I was sharing with clients anyway and to repurpose those on social media. I've had a couple of clients connect back in with me because I have been sharing videos."
"Awesome job! [The podcast shorts] are perfect. You guys are the best!! And you can take my statements here as testimony of how happy we are with your work at chopcast"
"It's been hugely positive for the organization to continuously have pipeline coming into the system."
"Thanks to chopcast services, we've really gotten into a good rhythm of production and have lots of great content to use for our social channels!"
"The big unlock in working with chopcast was creating shorts at scale. The following on my personal channel is up 100% YoY. Reach is way up as well for our company channels."
"We do so many webinars. Before, we were taking our webinars and slicing them ourselves, and that wasn't efficient. I would say we get a better output faster and time back working with chopcast."
"Game changer. We just upload our longer videos and turn them into social media-savvy content in just a few clicks. Subtitles and all!"
"Working with chopcast we could post-produce microcontent of the highlights from sessions we've recorded. It saved us so much time. They can self-select the best highlights to be distributed on social. They'll see opportunities in what you're creating that you don't see. It's been a great partnership. For any marketing leaders considering it, I say go and do it!"
FAQs: resizing videos for Instagram
Can I resize any video format for Instagram?
Yes. chopcast supports all major video formats. You can resize any video to fit Instagram's recommended dimensions for posts, stories, and reels.
Will resizing reduce my video's quality?
No. With chopcast, resizing your video for Instagram doesn't lead to any noticeable loss in quality. Your exported video will look crisp and professional.
Can I edit my video after resizing?
Absolutely. chopcast provides 100% editing options after resizing your video. You have full control over your content to make it even more captivating before posting on Instagram.
Is it difficult to resize a video for Instagram?
Not at all. chopcast's user-friendly interface makes it easy to resize videos for Instagram. All you need to do is upload your video, select your desired dimensions, and export your resized video.
What size should my video be for Instagram?
Instagram supports several video formats each with unique dimension requirements. For instance, square posts typically measure 1080x1080 pixels, vertical posts are 1080x1350 pixels, Instagram Stories and Reels work best at 1080x1920 pixels, and IGTV videos can go up to 3840x2160 pixels. Chopcast can help to easily resize your videos to fit these specifications seamlessly.
How can I resize a video for Instagram for free?
chopcast offers a free-to-use video resizing tool specifically optimized for Instagram, allowing you to craft perfectly sized videos for different Instagram formats at no cost.
Can I change the size of a video on Instagram?
Instagram doesn't allow resizing after posting. However, with chopcast, you can precisely resize your videos before uploading to ensure they fit perfectly on Instagram.
How do I make an Instagram video full screen?
For a full-screen effect on Instagram, you would want to use a 9:16 size format, which is the default dimension for Instagram Stories and Reels. You can easily achieve this by using Chopcast and choosing the Instagram Stories or Reels preset.
Do Instagram videos have to be square?
No, Instagram supports different video formats including square (1:1), landscape (1.91:1 to 16:9), and vertical (4:5 to 9:16). Chopcast can help you resize your videos to fit any of these aspect ratios for Instagram.
Why does Instagram zoom in on my videos?
Instagram automatically zooms in on videos that don't meet its aspect ratio requirements. To prevent this, you can resize your video to the recommended dimensions for the specific Instagram format you're targeting, using a tool like chopcast.
Start free
Ready to resize videos for Instagram?
Start resizing now with chopcast.
DONE-FOR-YOU
Need help creating short videos at scale?
Try 1 week free on our monthly plans.
Why use

chopcast

?
Upload your videos to chopcast's video editor. It'll watch them, and create thoughtful clips based on the key moments using AI that you can edit and share that are sure to get you noticed.

TikToks
Turn webinars, podcasts, and YouTube videos into great clips using AI in minutes.
Automatic video subtitling
Get 97% accuracy subtitles for your videos and clips. Edit anything on the fly.
Video, text, audio, and more
Video's only the start. Get instant transcripts, .SRT files, audiograms, and more.
Manage your clips in one place
No more hours lost searching long videos. Create and manage clips in one place.
Resize, change aspect ratio to suit all social platforms.
Instantly remove audio imperfections with 1 click.
Remove parts of your video by deleting/editing text.
Designed to grow your reach and engagement.
Not sure where to start?
Resize videos and more with chopcast.
Chopcast helps you turn videos into shorts. We offer a free-to-use AI platform, as well as done-for-you plans.