chopcast for Sales Professionals
Stop losing winnable deals.
Stand out in the inbox and on LinkedIn with trust-earning microcontent videos to build and close pipeline. 100% editable.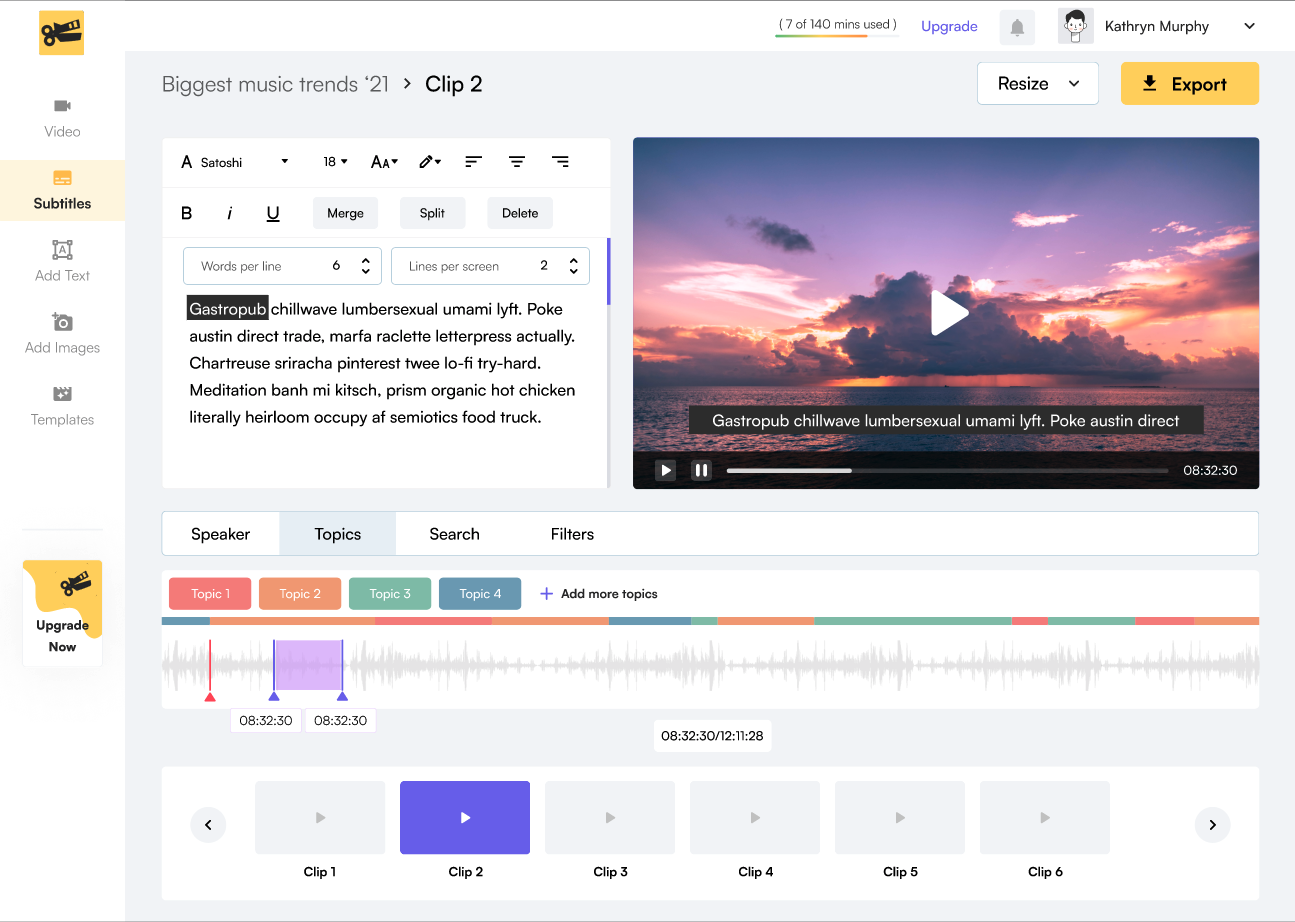 Join other small and large teams whom we've helped repurpose content, including:
Microlearning content platform
Drive more replies with personalized short-form clips that match your prospects' attention spans.
Simply add your product demos, testimonial videos, and webinars to chopcast. Chopcast will identify the key moments and turn them into automatic bite-size clips that you can easily fine-tune and share.
See how it works.
Chopcast will watch the videos and automatically repurpose them into bite-size conversation-starting clips. You can tweak or edit them to your liking, or create your own in a few clicks.
With chopcast, you can:
⌛ Get back

85%

of lost time.

🪄 Get 10+ auto-generated clips per video.

💰 Reduce costs by a factor of

6-8x.

💆

Spend less time personalising and more time selling.
(Try our ROI calculator)
Professionals love chopcast 😍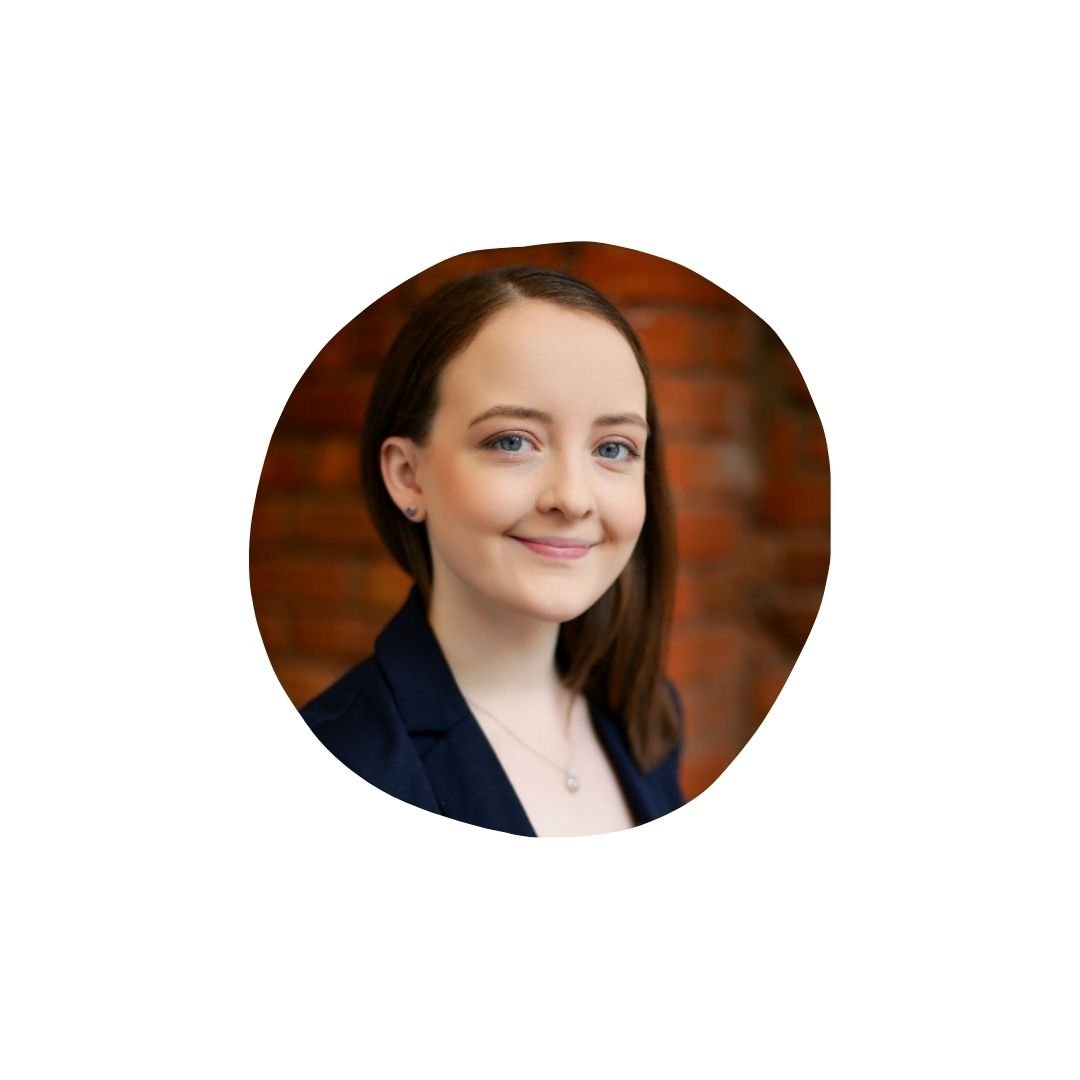 "chopcast helps us easily search our videos by topic and create social clips based on them. Saved us a lot of time to create engaging content versus trying to do everything manually."
"Finding and generating clip ideas is a breeze. I can tweak the ones I like further and export them to create lots of subtitled social clips. Before chopcast, this previously took hours when I had to watch videos manually!"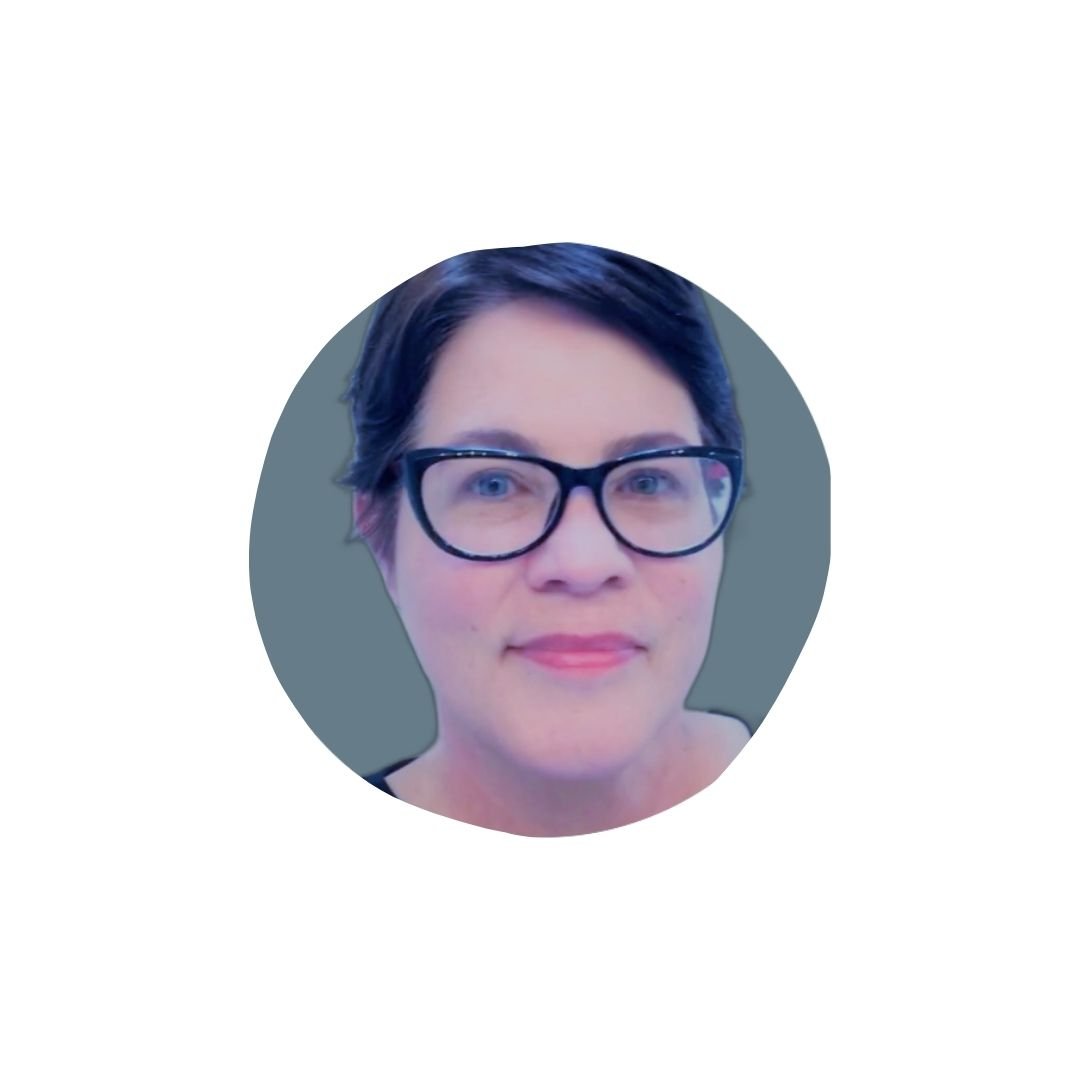 Find key moments to clip in 10 seconds.
Get auto-suggested clips based on topics discussed in your videos or search for your own keywords and topics. Resize them to your liking and export away.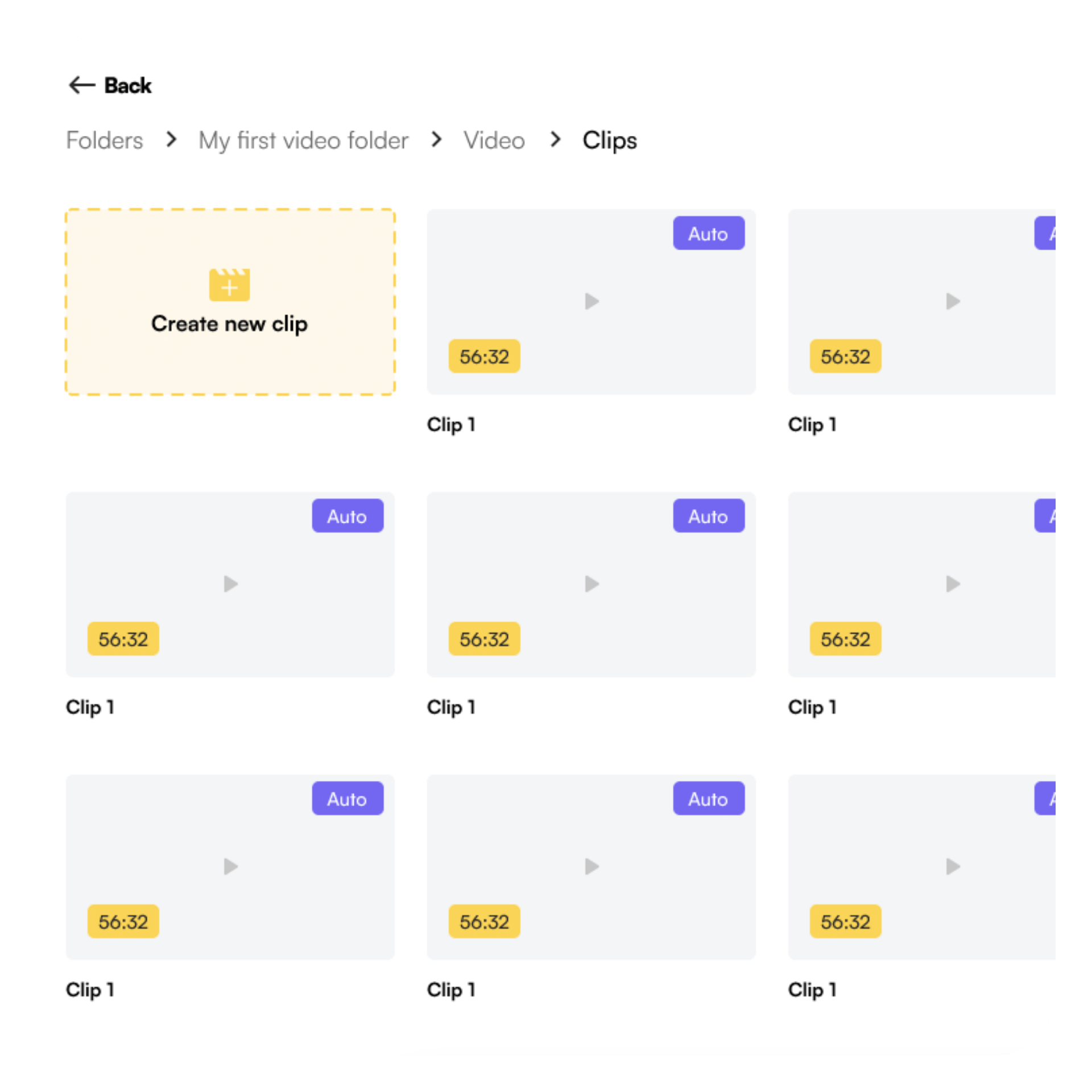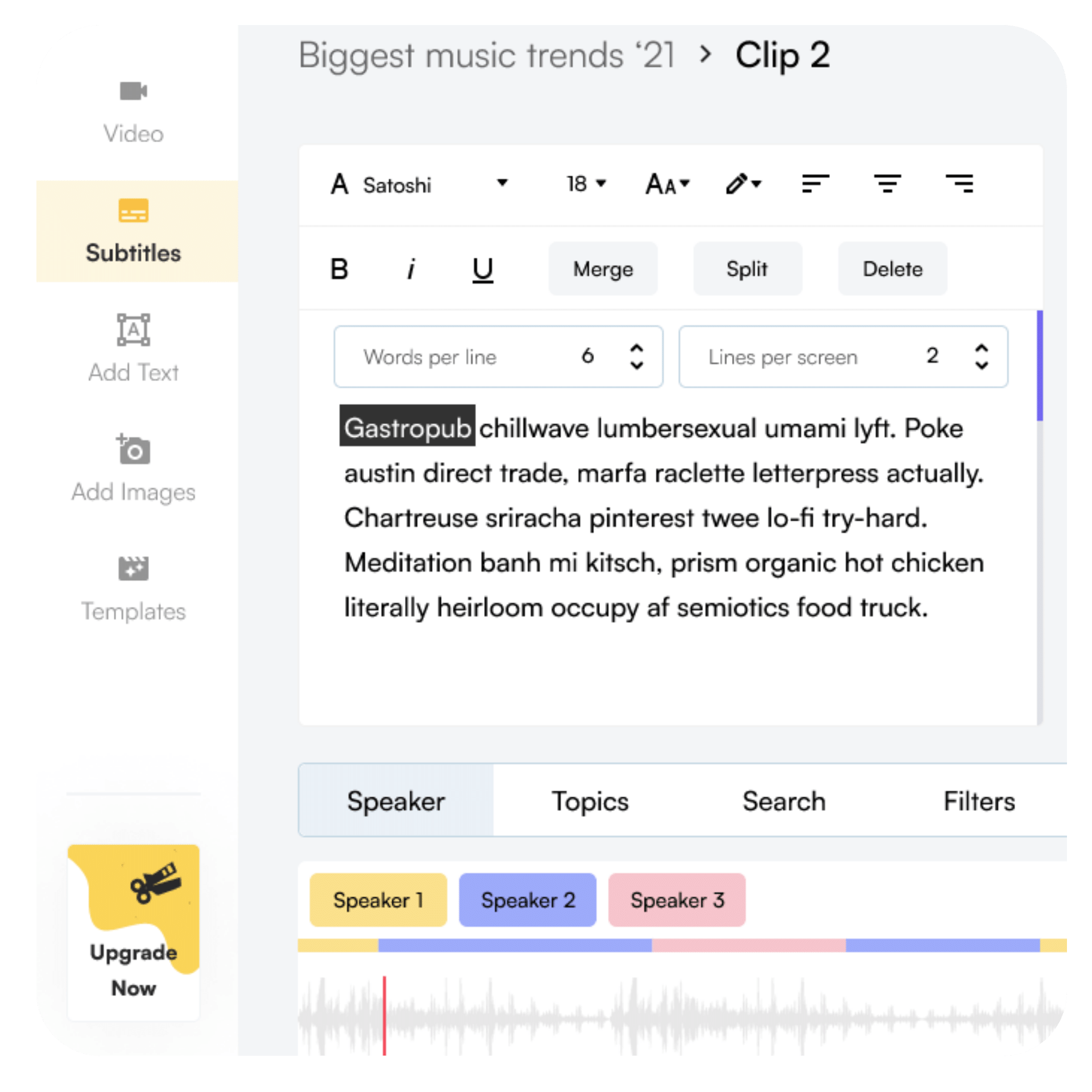 Instant subtitles.
Caption your videos automatically with >95% accuracy for most webinars/video podcasts. Edit, burn to video, or export as .SRT. It's your world.
Create once, resize many.
1:1. 4:5, 16:9, 9:16 - with more on the way. Resize your clips to your liking and export them for various platforms to boost discoverability.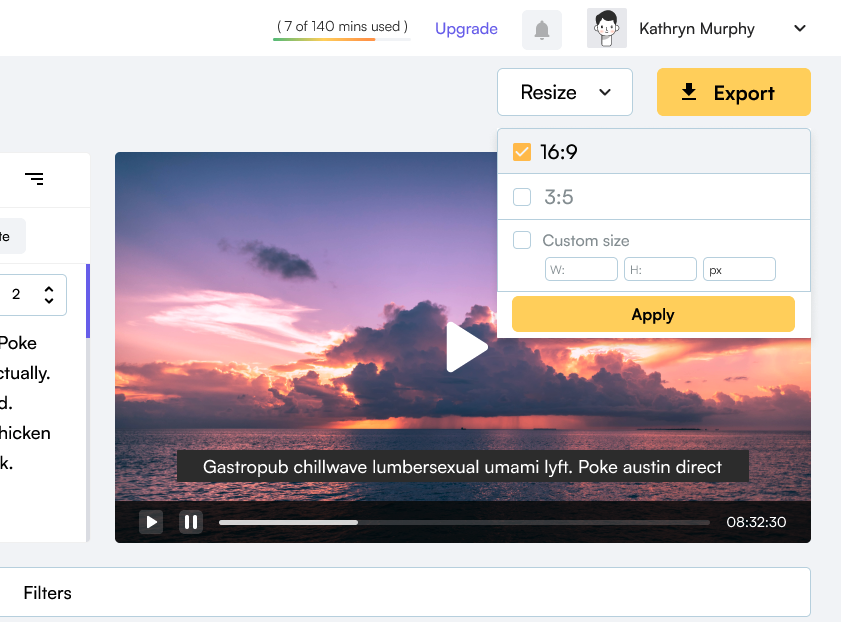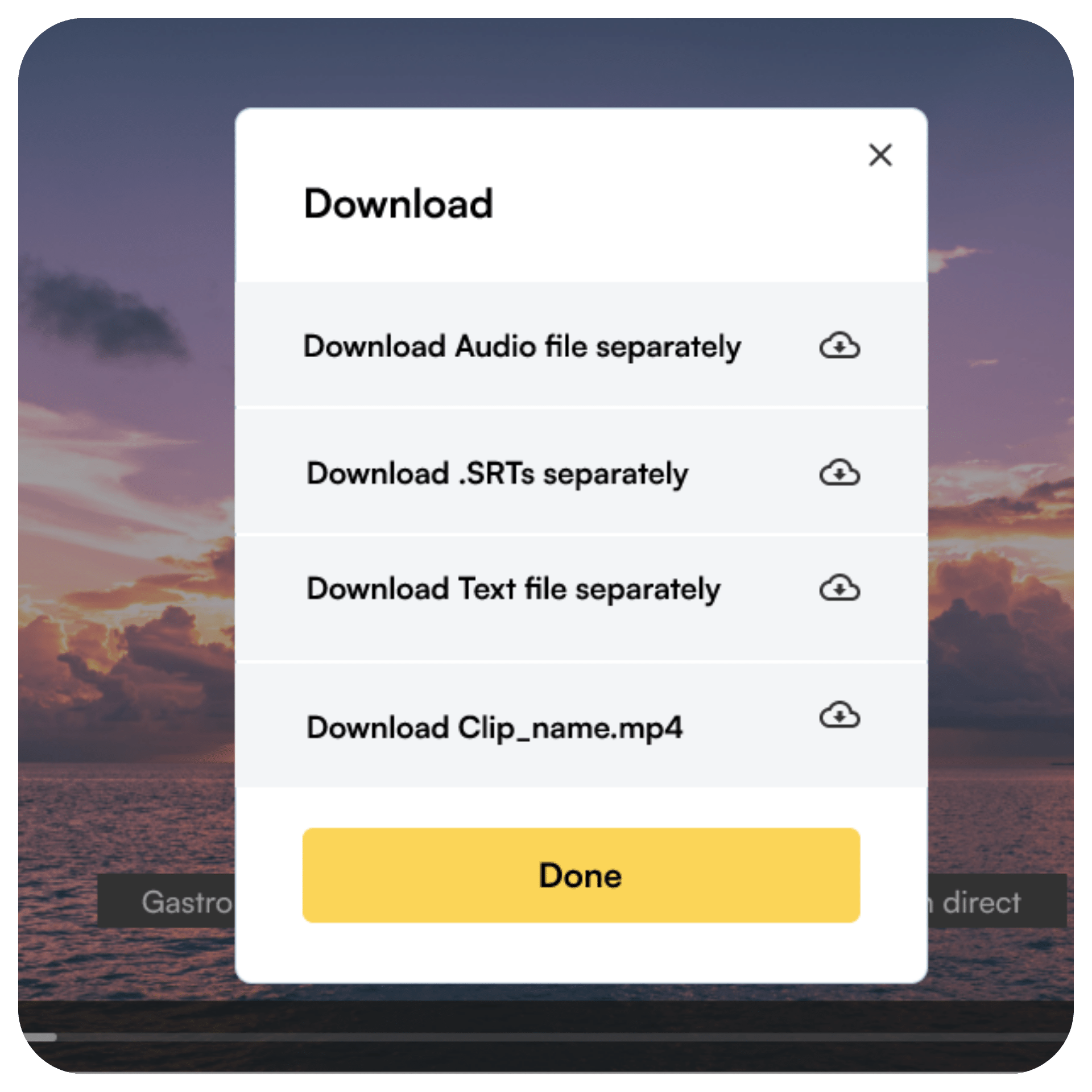 Export more than just video.
Turn text transcripts into articles. Turn your videos into audio podcasts. Download .SRTs to edit further in another video editor. The only limit is your imagination.
"Game changer. We just upload our longer videos and turn them into social media savvy content in just a few clicks. Subtitles and all!"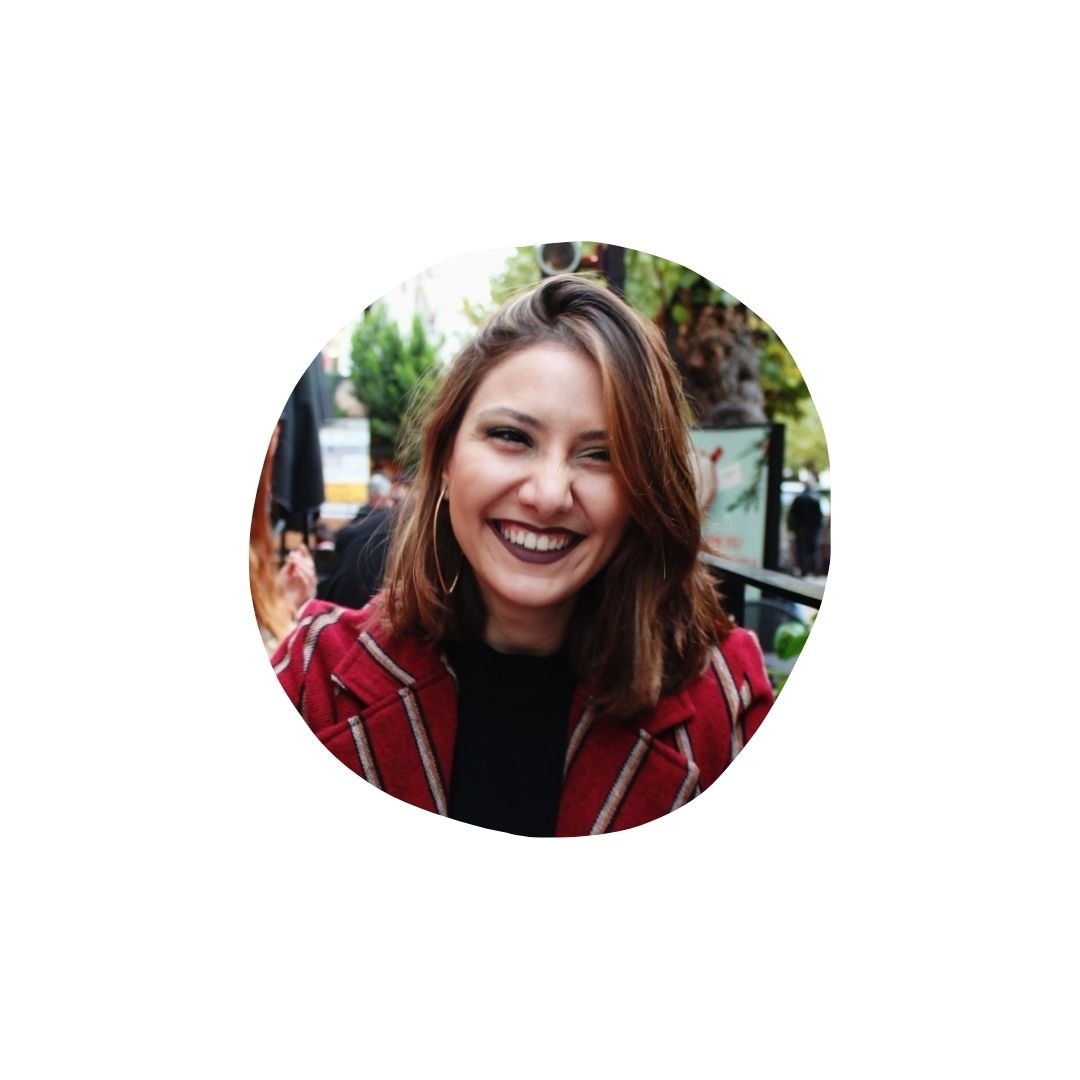 Get back lost time.
Creating and repurposing video and webinar content was never so easy. Start saving time with chopcast!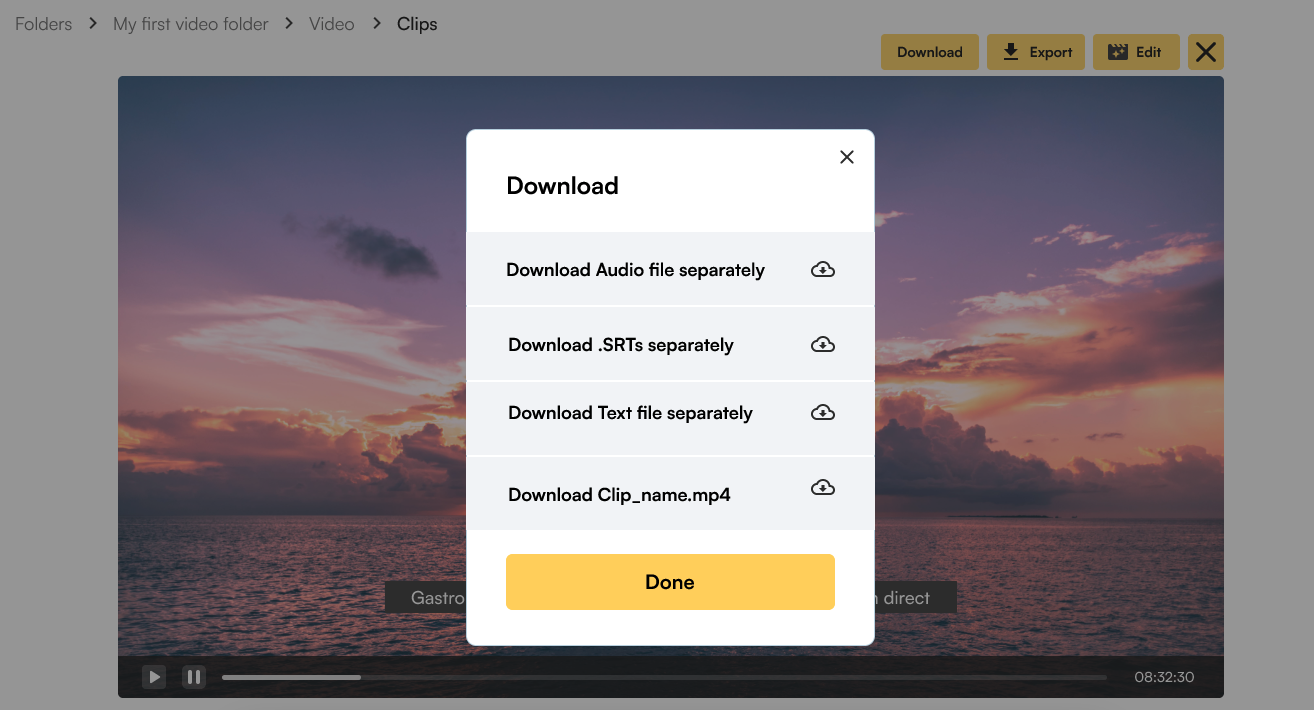 Why chopcast?
Join our tiny tribe of creators and marketers who are growing their brand influence
Scale your content overnight
Drive up to 72% more reach and engagement by repurposing your webinars, streams, and podcasts into snackable assets regularly.
Acquire new leads 2-4x more cost-effectively by turning your webinars and YouTube videos into short-form content at scale.
Drive 25%+ more pipeline from your existing content through smart content workflows that run themselves.
Get back 10+ hrs per week
Save time on manual content creation, editing, hiring agencies and training VAs, allowing you to focus on strategic priorities.
Rapidly create short-form video and image creatives at scale so you can run A/B multivariate tests and continually optimize spend.
Be everywhere your customers are. Think 1 webinar into 10s of binge-worth content for your social channels - every week!
Features
Turn your webinars, events, and video podcast content into tons of revenue-generating assets in minutes.
Turn videos into auto-generated clips based on key moments using NLP. 100% editable.
Automatic video subtitling
Get 97% accuracy subtitling of your videos. Need to make a change? Click to edit on the fly.
Video's just the start. Get instant transcripts, .SRT files, and audio podcasts for content you upload.
Rapidly create intelligent clips based on topics you add. No more manual watching hours upon hours of content.
Add text. Move text. Style text. Add logos, images, and lots more. Video editing PhD optional.
Need short and snappy subtitles? Need longer ones?
What is chopcast?
chopcast is a content repurposing platform that helps you automatically turn long videos into clips for social based on key moments.
How does chopcast find key moments?
Using our proprietary methods and technology, we identify engaging topics and segments based on analyzing each video individually against large data sets and inferences. chopcast will learn from you the more you use it, too.
How does chopcast charge me?
You pay for minutes uploaded (the total duration of the original videos you're uploading). You get unlimited free auto-subtitling and exports.
All pre-order plans are paid annually, and we have some slots if you wish to commit annually and pay monthly instead.
What content can I repurpose?
Long-form videos like webinars, livestreams, video podcasts, virtual event footage, online courses, meetings, and more.
My team already repurposes content using tools, freelancers, and/or in-house talent. How will this help me?
When you choose to do things manually that can be 4-8x faster through the help of automation, you're paying 4-8x more than others for the same results. This cost is compounded when you try to use multiple video editors, subtitling services, and other tools that don't speak to one another seamlessly. chopcast is all-in-one. If your time is worth more than $2/hr, chopcast makes financial sense. Check out our ROI calculator
Can I edit the auto-generated content?
Absolutely! Auto-generated clips can be used as-is or edited as much as you like.
You can also create clips by searching for keywords and topics, or scanning our suggested topics to create clips that way.